The Best Pest Control in Boca Raton!
Pest Control in Boca Raton
If you live in Boca Raton, you probably love the warm weather the city boasts. It makes for leisurely beach days and beautiful golf outings. Unfortunately, quite a few pests also love Florida's warm weather! If unwanted guests such as cockroaches, spiders, ants, or centipedes have gotten comfortable in your home or business, Price Termite and Pest Control can help. We're your one-stop shop for all pest control needs; we can even treat multiple infestations at once, saving you time and money!
Our pest control services in Boca Raton include:
Free pest inspections.

A large variety of treatment options.

Organic treatment options.

One-time and recurring service.

Satisfaction guarantees on recurring pest control.
30+ Years of Expert Pest Control Services
When you call for professional pest control, you don't want a company that only has a 5-year track record. You want real expertise proven with a long track record. Price has been getting rid of pests in Boca Raton since 1988, and we put all that hard-earned knowledge to work for your benefit! Trust our local exterminators to get rid of pests in your home today!
Image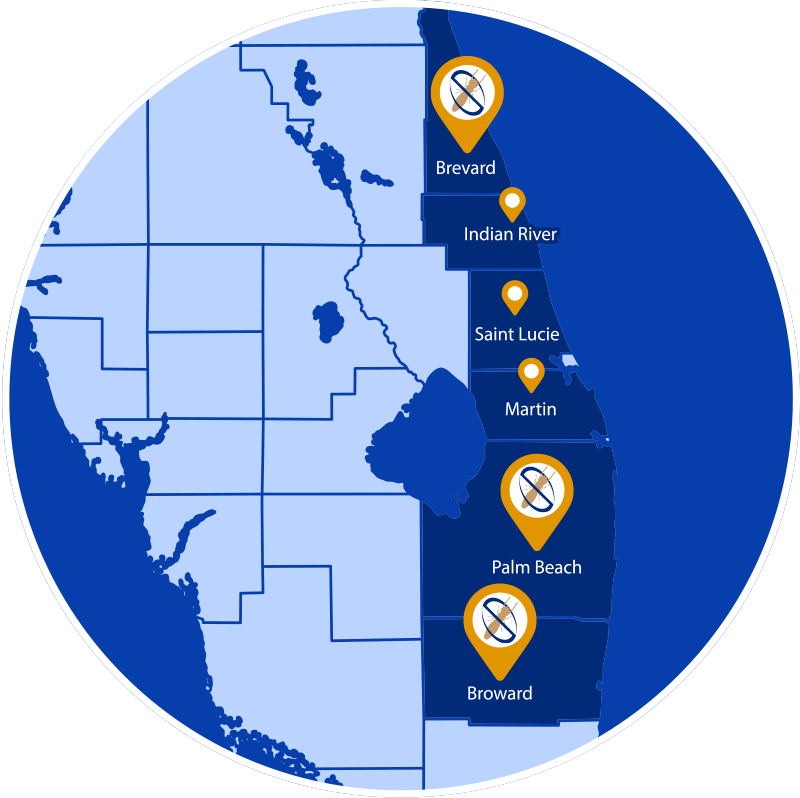 Termite Control in Boca Raton
A termite infestation can spell disaster for a homeowner's financial investment in their home. Not only can termite damage compromise the structural integrity of a building, but it can also drastically reduce the actual value of the home unless costly repairs are made. Protect your home with Price's state-of-the-art termite control.
When you choose us for termite control in Boca Raton, you can expect:
A free inspection to determine if termites are active and have caused damage.

Courteous and highly trained termite exterminators to walk you through the process.

A variety of treatment options.

Reactive treatment to get rid of an active colony.

Preventative treatments that create a "barrier" between termites and your home.

One-time or ongoing termite treatment services.

A termite-free and protected home!
If caught early, a termite infestation could cause little harm to your home. We offer free termite inspections so you can know whether your home has termites and the best ways to protect it for the long term. Get rid of termites and protect your home long-term, with help from our local team. Currently building? Check out our pre-construction termite control in Florida!
Bed Bug Treatment in Boca Raton
Of the pest infestations we deal with, bed bugs are one of the more disturbing. Although bed bugs aren't known to transmit any diseases to humans, the fact that they feed on our blood while we sleep is enough to make bedtime scary. If you suspect you have bed bugs in your home, connect with Price for:
A professional bed bug inspection.

A custom bed bug treatment plan.

Multiple treatment options

EPA-approved products.

Recurring bed bug control.

A bed bug-free home.
The Best Bed Bug Control in Boca Raton, FL
Don't settle for living with a bed bug infestation. Our local bed bug exterminators will provide you with excellent services so you can get rid of bed bugs fast. Whether you want to know how you got bed bugs, the signs of them, and why our bed bug treatments are so effective, the team at Price can help you. Rely on our local technicians to give you the relief you deserve.
Rodent Control in Boca Raton
For thousands of years, rats and mice have been living off human settlements. As a result, they're very skilled at hiding and can carry many diseases that we can catch. So, although it's common to have rodents living in homes, you don't want them in yours! Our goal as a rodent control company is to remove these furry critters quickly and effectively to keep you and your family safe from rodent-borne diseases. Trust our team for expert rodent removal today.
Our rodent control services in Boca Raton include:
A free rodent inspection by one of our top-notch exterminators.

Exterior rodent baiting to knock down the population around your home.

Interior trapping that eliminates the remaining rodents inside.

Rodent exclusion to prevent a new infestation.

Recurring or one-time service, depending on your preference.
There's no reason to let the pests continue nibbling on your food, sneaking around your home, and risking your family's health. Call Price Termite and Pest Control to get rid of rats and mice for good.
Mosquito and Tick Control in Boca Raton
Mosquitoes and ticks make outdoor time less appealing. But you don't have to be kept from enjoying lovely summer evenings in your outdoor space by these parasites. We offer effective mosquito, flea, and tick control that drastically reduces these pests' population in your yard, protecting you and your loved ones.
Our mosquito treatment process goes like this: 
We start with a

free yard inspection

to locate areas of concern.

For mosquitoes,

we will fog or spray areas where mosquitoes nest and breed, or we will install innovative In2Care mosquito traps that kill live mosquitoes and their larvae.

For ticks and fleas,

we will spray the perimeter of your yard to create a barrier, then blanket the rest of your yard.

We'll return for follow-up visits

to ensure treatment doesn't wear off all summer long.
Our highly trained exterminators can also perform one-time mosquito treatments, which can be especially helpful a few days before a neighborhood barbecue or other outdoor gathering. Get rid of mosquitoes and enjoy your outdoor spaces with help form Price today!
Your Local Experts
Price Termite and Pest Control is locally owned and operated here in Boca Raton. We know the area's pests better than some national pest control company, and we know how to treat our fellow Floridians the way we like being treated. When you call Price, you can trust you'll get the best local expertise and service!