Simply the Best Pest Control Services in Boca Raton!
Get rid of pests with the professionalism and quality you deserve - trust your home or business to Price Termite & Pest Control, Boca Ration Florida's finest choice, for over 30 years. Protect your property with family-friendly, same-day extermination backed by our 100% satisfaction guarantee!
Pest Control in Boca Raton
Price Termite & Pest Control offers quality local pest control services in Boca Raton, Florida, and beyond. Our family-run business has 30+ years of experience – with brothers Jon, Tony, and Josh at the helm, you can expect hands-on ownership and incredible customer service every time you call. And our treatments are all 100% family-friendly!
Our customers have helped us become the best pest control company on Florida's Atlantic Coast. When you partner with us, you'll enjoy:
A Satisfaction Guarantee for recurring pest control services
Same-day and Saturday Service in most areas
Plus, our technicians always perform a thorough inspection of your property before beginning service! Experience the Price difference with help from our pros today.
Image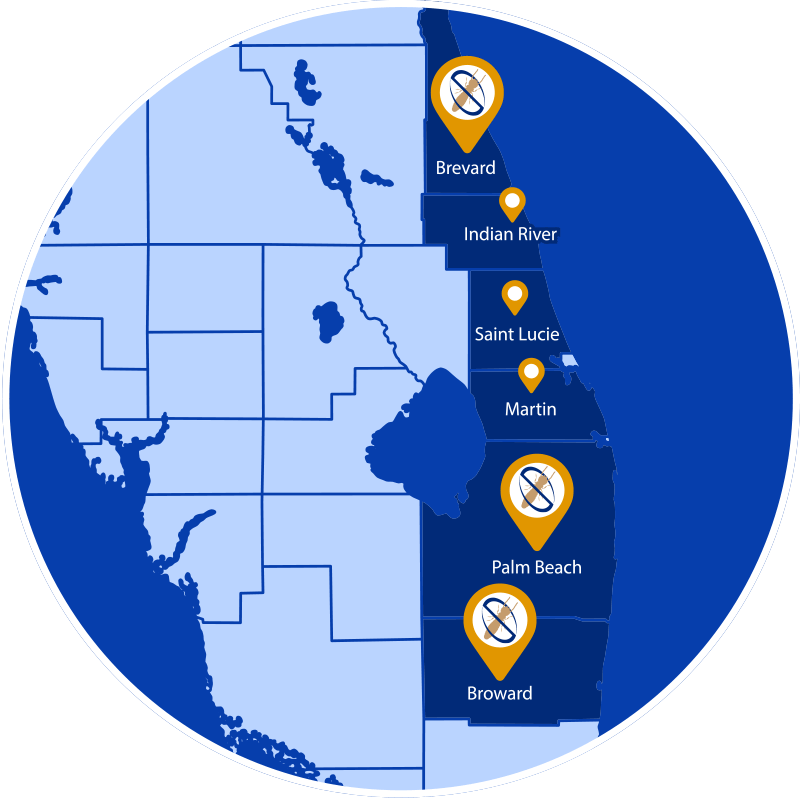 General Pest Control in Boca Raton
Price Termite & Pest Control offers a comprehensive general pest control service in Boca Raton. Providing coverage for both homes and commercial businesses, our efficient treatments target a wide range of common pests located within the warm coastal environment of South Florida. We prioritize safety and sustainability using organic and biodegradable products designed to provide effective long-term protection from pests without any added stress.
Residential Pest Control
At Price Termite & Pest Control, we understand that having pests can feel overwhelming. That's why our highly-trained exterminators are here to provide you with same-day and Saturday pest control for residents in Boca Raton. We're experts in general pest control and offer a comprehensive inspection service so that you know exactly what pests are causing your family, and pets, discomfort.
We use only the most effective treatment plans to get rid of common household pests, such as:
Ants
Roaches
Spiders
Silverfish
Fleas
And Much More!
Our team will handle all of your pest issues quickly and safely so you can get back to enjoying your home worry-free. Contact us today for exceptional pest control services!
Commercial Pest Control
Complimented by same-day commercial pest control services, Price Termite & Pest Control is your one-stop shop for protecting your business. Our experienced exterminators have been keeping the Atlantic Coast of Florida safe and healthy since 1988, providing comprehensive solutions tailored to your business. We work with a wide variety of common commercial properties:
Office Buildings
Doctor's and Dentist's Offices
Warehouses
Distribution Centers
Recycling Plants
Houses of Worship
Stores
Banks
Restaurants
Convenience Stores
With our general pest control services, you and your customers can start your journey to a pest-free environment today. From thorough inspections for rodents, ants, and bed bugs to powerful solutions for prevention as well as extermination, we can get rid of any infestation that may deter customers from getting in touch with—and ultimately doing business with—you. Rest assured that when you choose Price Termite & Pest Control, you are choosing reliable care for only the safest results.
Termite Exterminator in Boca Ration
Looking for a reliable termite exterminator in Boca Raton? We're here to help. Our team of highly trained specialists provides superior residential and commercial termite control services that will help you get rid of termite infestations quickly and effectively. We use the most advanced treatments tailored specifically to your needs, with over 30 years of experience in detection, extermination, and prevention work.
Our 100% satisfaction guarantee
A custom treatment plan that suits your situation.
Safe, efficient, and proven treatments.
Ongoing long-lasting protection.
Our 100% satisfaction guarantee.
Family-friendly Termite Treatments
At Price Termite and Pest Control, we provide family-friendly and pet-safe treatments against termite infestations in Boca Ration and beyond. We're dedicated to offering highly-effective solutions that protect your home without sacrificing the environment. We combine the latest in technology with our proven methods to get rid of termites quickly and safely - from fumigation to pre-construction, so you can rest assured we've covered all the bases. When you choose us for your termite treatment, you're in good hands. Contact us today for a free quote!
Ongoing Termite Control and Prevention
We understand that termite control is a year-round job in South Florida's subtropics climate, and our Boca Ration Service provides the ongoing termite protection you need. We use advanced baiting technology to create an invisible "force field" of prevention around your home or business. Our bait stations work passively, as they become colonized by foraging worker termites who bring the bait back as food for their colony - with active ingredients that are harmless to humans yet deadly for termites! Our expert technicians will regularly monitor and replace the bait cartridges for optimal protection. So give us a call in Boca Raton today, and rest assured knowing you have taken proactive steps toward keeping your property safe from costly infestations.
Prompt and Comprehensive Termite Inspections
At Price Termite and Pest Control, our certified experts have over 30 years of experience in providing the most thorough termite inspections in Boca Raton. Our highly-trained technicians are capable of identifying potential termite activity both inside and outside of your property, preventing any structural damage that could be caused. Whether you're a newly purchased property or taking preventive steps against termites, our technicians will use their expertise to complete a checkup from interior to exterior and intervene if necessary. As detection is key to eliminating the issue efficiently, trust the professionals at Price Termite and Pest Control for reliable inspection services that keep your home safe!
Bed Bug Treatment in Boca Raton
Of the pest infestations we deal with, bed bugs are one of the more disturbing. Although bed bugs aren't known to transmit any diseases to humans, the fact that they feed on our blood while we sleep is enough to make bedtime scary. If you suspect you have bed bugs in your home, connect with Price for:
A professional bed bug inspection.

A custom bed bug treatment plan.

Multiple treatment options

EPA-approved products.

Recurring bed bug control.

A bed bug-free home.
The Best Bed Bug Control in Boca Raton, FL
Don't settle for living with a bed bug infestation. Our local bed bug exterminators will provide you with excellent services so you can get rid of bed bugs fast. Whether you want to know how you got bed bugs, the signs of them, and why our bed bug treatments are so effective, the team at Price can help you. Rely on our local technicians to give you the relief you deserve.
Rodent Exterminator in Boca Raton
Are you looking for a reliable rodent exterminator in Boca Raton to help get rid of pesky rodents? Not only do we provide a free inspection of your home, but our fast and effective rodent control services can ensure your property is rodent-free! Our services include:
A detailed inspection - conducted by one of our highly trained exterminators.
Exterior baiting - using bait stations to reduce active population.
Interior trapping- placing traps where rats and mice can find them quickly.
Rodent exclusion - preventing rodents from returning to your property.
Providing recurring or one-time services – take your pick!
Our friendly and professional team will take the necessary steps to make sure all bait and traps are out of reach of children and pets yet are easily available for rodents to find them quickly. In fact, we pride ourselves on providing only the highest quality services tailored to your needs. With us, you'll never have to worry about rats and mice again! So don't wait—an expert rodent exterminator awaits at Price Termite and Pest Control.
Mosquito and Tick Control in Boca Raton
Mosquitoes and ticks make outdoor time less appealing. But you don't have to be kept from enjoying lovely summer evenings in your outdoor space by these parasites. We offer effective mosquito, flea, and tick control that drastically reduces these pests' population in your yard, protecting you and your loved ones.
Our mosquito treatment process goes like this: 
We start with a

free yard inspection

to locate areas of concern.

For mosquitoes,

we will fog or spray areas where mosquitoes nest and breed, or we will install innovative In2Care mosquito traps that kill live mosquitoes and their larvae.

For ticks and fleas,

we will spray the perimeter of your yard to create a barrier, then blanket the rest of your yard.

We'll return for follow-up visits

to ensure treatment doesn't wear off all summer long.
Our highly trained exterminators can also perform one-time mosquito treatments, which can be especially helpful a few days before a neighborhood barbecue or other outdoor gathering. Get rid of mosquitoes and enjoy your outdoor spaces with the help from Price today!