Simply The Best Pest Control in Delray Beach!
At Price Termite and Pest Control, we specialize in providing exceptional pest control services to Floridians in and around Delray Beach and beyond. With our team of expert exterminators, we guarantee to get rid of any pest problem you may have for good, and if you sign up for a year of protection, you'll save $50.
Local Pest Control in Delray Beach
The climate in Delray Beach Florida can't be beaten. Our gorgeous weather, ocean access, and public art make this community a charm to live in. But pests in your home or business seriously disrupt life, even in such a beautiful place. Our fast, effective, and safe pest control services remedy the situation, getting rid of pests efficiently so you can again enjoy living here. We've been servicing the greater Delray Beach area since 1988, so rest assured, we have the local expertise necessary to treat all your pest problems effectively. Simply put, there's no better choice than Price Termite & Pest Control.
When you choose Price Pest Control for your pest removal needs, you can expect: 
A free pest inspection of your home or business.

A free quote so you know what to expect.

A tailored pest control treatment plan for your specific infestation.

One-time or recurring service to suit your needs.

Organic options so your safety is never in question.

Your pest problem solved!
Whether you're seeing cockroaches, spiders, ants, stinging insects, or all of the above, we're your one-stop shop for all pest control needs. One call to price will see one or multiple pest infestations brought under control!
Image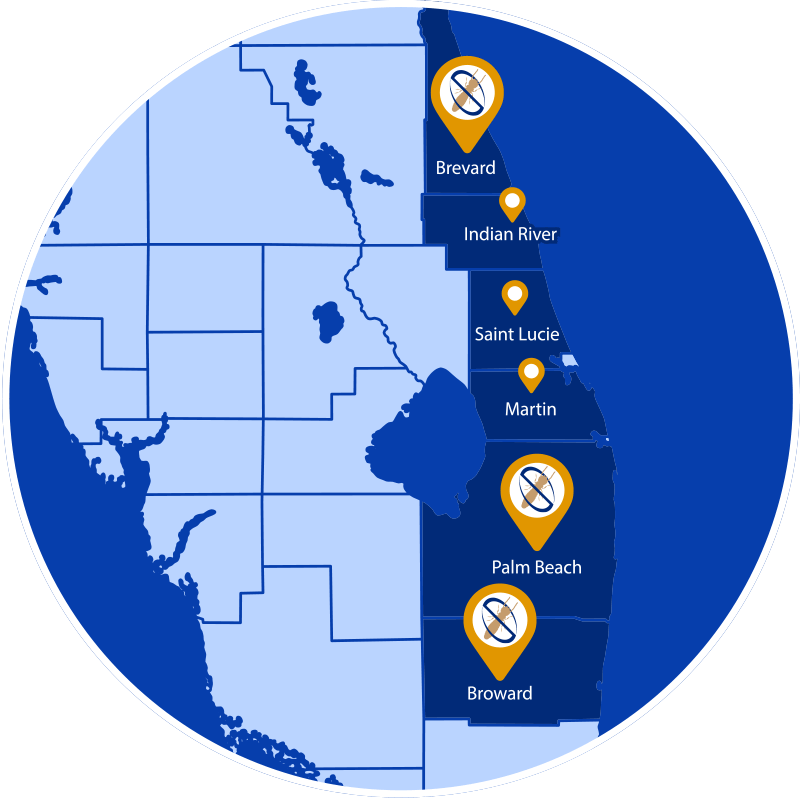 Termite Exterminator in Delray Beach
In Florida, any home with wood in it is at risk of termite damage. Because termites dole out more damage to American homeowners than any other pest, we consider termite control a cornerstone of our work. 
Our termite control services in Delray Beach protect your home or business through: 
A free, thorough termite inspection to determine if they are active, and how extensive the damage is.

Proactive termite prevention such as pre-construction treatment.

Reactive termite treatment, ranging from spraying, termiticide soil treatment, and fumigation.

Spot treatments and full-home treatments.

Innovative termite baiting systems that both eradicate active colonies and protect against future ones.

Recurring treatments that safeguard your home for the long haul.

 
If, like most people, your home is your largest financial investment, termite treatment is a must here in Delray Beach. Most homeowners insurance doesn't cover termite damage, leaving you to foot the bill of potentially extensive repair. Our highly skilled termite exterminators will help protect your home and its financial value with the most integrated termite control in Florida.
Bed Bug Exterminator in Delray Beach
In the past decade, bed bug infestations have been on the rise, putting every home at higher risk. Despite the common misconception, bed bugs do not only infest dirty or cluttered homes. Even the cleanest home is at risk of a bed bug infestation. That's because these pests are talented hitchhikers, usually snagging rides into new homes in the folds of luggage, or on second-hand furniture. 
Our bed bug treatment will get rid of bed bugs via our proven process:
One of our highly trained exterminators will conduct an inspection of your home.

We will develop an individualized treatment plan for your unique situation.

We will treat your home using a variety of methods to remove bed bugs.

Our technicians will return for follow-up treatments to ensure bed bugs are gone for good.
If you suspect you have bed bugs in your home, reach out to us for a professional inspection and rapid treatment. We offer Same-Day, Next-Day, and Saturday service in Delray Beach so we can eliminate bed bugs from your home as quickly as possible.
Rodent Exterminator in Delray Beach
Rats and mice in your home or business are frustrating and stressful. These furry critters have a gift for making a home of our homes, but they carry many transmissible diseases, making a rodent infestation a real health risk. But you're not alone! Our team of skilled rodent exterminators has the knowledge and equipment to take care of any size rodent problem quickly and safely.
Our rodent control services in Delray Beach include:
A free rodent inspection.

Residential and commercial rodent removal.

Exterior rodent baiting.

Interior rodent trapping.

Rodent exclusion services.

Recurring and one-time rodent control.
We take care to strategically place bait and traps in locations where pets nor children will play with them, but where rodents will easily find them. When rodents rear their heads in your home, call on Price to get them out and to keep your family safe from the harm these critters can cause.
Mosquito and Tick Control in Delray Beach
The outdoor space around your home is a precious thing for you, your children, and your pets to enjoy. But mosquitoes, ticks, and fleas can cheapen outdoor time, and cause us to spend more time inside (the last thing we as humans need). If you're not willing to give up your patio to mosquitoes or your kid's outdoor play, our tick and mosquito control in Delray Beach is for you.
We exterminate mosquitoes, ticks, and fleas by: 
Spraying your yard on a regular basis to tamp down on ticks.

Fogging shaded areas where mosquitoes rest.

Treating standing water with larvicide to kill mosquito larvae.

Installing state-of-the-art mosquito traps.

Regularly visiting to monitor your yard's pest count and repeat treatments.

And more!

 
Our proven treatments protect your loved ones and pets from diseases that mosquitoes, ticks, and fleas are known to carry so you can use your outdoor space as you like.
Locally Owned and Operated Pest Control
Price Termite and Pest Control started here on Florida's Atlantic Coast in 1988 and has been serving the coastal communities ever since. More than 30 years as a locally owned and operated pest control company has intimately acquainted us with Florida's unique pests and equipped us to provide the best service in Delray Beach. As your neighbors, we look forward to helping you get rid of pests in a fast, effective, and safe manner.
Areas We Service Around Delray Beach
At Price, we don't just provide effective pest control services in Delray Beach, we're proud to offer our expertise to the wider Boca Raton area as well. From termite treatments to rodent control, we're the go-to choice for pest control in Boca Raton and beyond.