Save up to $50 on Professional Pest Control in Loxahatchee!
Pest Control in Loxahatchee
Introducing Price Termite & Pest Control, your local pest control services in Loxahatchee, FL. With over 35 years of experience, we are the trusted exterminators in the area. We offer a wide range of pest control services to meet your needs, whether you're a homeowner or a business owner.
Here are the services we specialize in:
Residential Pest Control
Commercial Pest Control
Rodent Control
Termite Control
Bed Bug Control
Mosquito and Tick Control
Lawn Pests
And much more!
When you choose Price Termite & Pest Control, you can expect:
Same-day service
Family-friendly treatments
Discount for multiple services
100% satisfaction guarantee
Financing is now available!
With Price Termite & Pest Control, you can trust that your pest control needs will be taken care of with professionalism and expertise. Contact us today to experience the difference we can make for your home or business in greater West Palm Beach, and surrounding areas such as here in Loxahatchee.
Image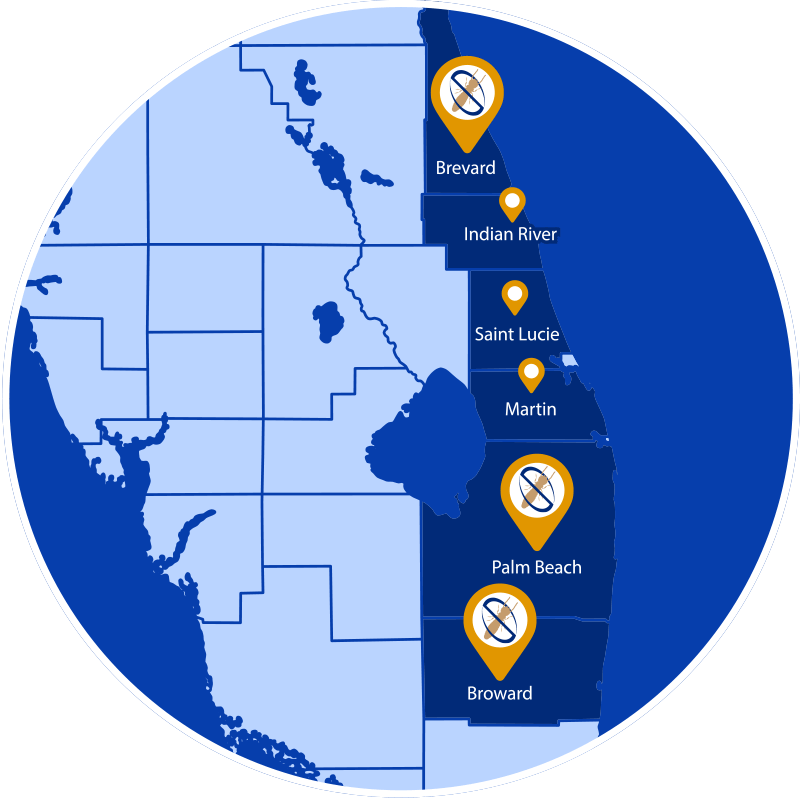 Residential Pest Control in Loxahatchee
Loxahatchee residents, are you tired of dealing with common household pests invading your home? Look no further than Price Pest Control for all your pest control needs. Our highly trained exterminators specialize in same-day residential pest control in Loxahatchee, and are equipped to handle a wide range of pests. Here's a list of the pests we can get rid of for you:
Ants
Cockroaches (except German)
Spiders
Silverfish
Fleas and ticks
Hornets
Wasps
Centipedes
And much more!
At Price Pest Control, we understand that living with pests is unbearable. That's why we offer same-day, next-day, and Saturday service. Our goal is to provide you with fast and effective pest control, even if you have a busy schedule.
Don't let pests take over your home. Contact Price Pest Control today for a pest inspection and let us help you reclaim your space. With our limited guarantee and commitment to organic pest control, you can trust us to get the job done right!
Commercial Pest Control in Loxahatchee
Protect your Loxahatchee business from pests, so you can focus on what you do best. Our same-day commercial pest control in Loxahatchee is here to serve your specific needs. Don't let common pests deter your customers. Get rid of them with our general pest control services.
Our experienced team is trained to handle pests in a variety of properties, including:
Office buildings
Doctor's offices
Warehouses
Recycling plants
Houses of worship
Stores
Banks
Restaurants
Convenience stores
And more!
Our comprehensive pest control includes inspections, extermination, and recurring services to protect your business and reputation. Trust our experts to keep your property pest-free, so you can focus on running your business smoothly. Call us now to schedule your FREE pest inspection appointment and experience the Price difference.
Termite Exterminator in Loxahatchee
Welcome to our termite control service in Loxahatchee, where we offer effective termite treatments that will eliminate these pesky insects from your home. With over 30 years of experience, our team of expert termite exterminators will provide you with top-notch service that is tailored to your specific situation.
Here's what our termite control service in Loxahatchee includes:
A free termite inspection by one of our knowledgeable and friendly technicians. They will thoroughly check your property for signs of termites, such as mud tubes climbing your foundation or frass piles in your crawlspace.
A custom treatment plan that suits your needs. Depending on the species and extent of the infestation, our technician will recommend the most effective method, whether it's fumigation for extensive live termite infestations or termite baiting to eradicate existing colonies and prevent future ones.
Ongoing protection to ensure that termites stay away from your home. Our team will strategically place termite bait stations around your property to create a "force field" that actively prevents these bugs from approaching your home.
Monitoring and prevention to keep your home termite-free. We offer one-time or recurring services to fit your schedule and budget, so you can have peace of mind knowing that your investment is protected.
At our termite control service in Loxahatchee, we understand the importance of keeping your home termite-free. As the largest investment you'll make, it's crucial to take proactive measures to safeguard it. That's why we offer comprehensive termite treatments that are safe, efficient, and proven to work.
Don't wait until termites start causing damage to your home. Contact our termite exterminators in Loxahatchee today for a free inspection and let us help you get rid of termites once and for all. Your satisfaction is our guarantee.
Bed Bug Exterminator in Loxahatchee
Discover the ultimate solution for a good night's sleep in Loxahatchee. Our bed bug control service is here to get rid of those pesky bed bugs that disrupt your peace of mind. With our expert bed bug exterminators, you can trust our proven methods to effectively eliminate these parasitic pests for good. Say goodbye to itchy bites and hello to deep, uninterrupted sleep.
Here's what you can expect from our comprehensive bed bug treatment:
Same-day bed bug inspection: Our team of highly-trained technicians will conduct a thorough inspection of your home to assess the severity of the infestation and identify the best course of action.
Liquid treatments: Our targeted liquid spot treatments are designed to eradicate bed bugs at their source, ensuring a long-term solution for your bed bug problem.
Aerosol treatments: For a more widespread infestation, our aerosol treatments provide a broader coverage, reaching those hard-to-reach areas where bed bugs may be hiding.
Pesticide treatments: In cases of severe infestations, we offer fumigation services to effectively eliminate bed bugs from your entire property, leaving no room for these pests to thrive.
With our bed bug treatment options, you can rest easy knowing that our experts will provide you with a customized plan tailored to your specific situation. We don't just eliminate bed bugs; we also educate you on preventive measures to ensure they don't return.
Don't let bed bugs rob you of a good night's sleep any longer. Our experienced bed bug exterminators in Loxahatchee are ready to help you reclaim your peace of mind. Contact us today to schedule your FREE same-day inspection and take the first step towards a bed bug-free home.
Rodent Exterminator in Loxahatchee
Looking for a reliable rodent control service in Loxahatchee, FL? Look no further! We offer a comprehensive solution to your pesky rodent problem. Here's what we provide:
Free Rodent Inspection: Our highly trained rodent exterminators will thoroughly inspect your property, identifying any signs of infestation.
Exterior Rodent Bait Boxes: We strategically place bait stations around the exterior of your home, ensuring that rodents are targeted and controlled.
Interior Trapping: Our skilled team will set up traps inside your home, effectively capturing and removing any rats, mice, or varmints.
Structural Modifications: We perform necessary repairs, such as filling holes, sealing cracks, and installing wire mesh, to prevent further rodent entry.
Rodent Exclusion: Our exclusion techniques are designed to keep rodents out for good, by trimming back trees and bushes and sealing utility gaps.
Recurring or One-Time Service: Choose the option that suits your needs - ongoing prevention or a single comprehensive treatment.
Varmint Removal: Our rodent control service covers a wide range of pests, including rats, mice, and other varmints, but not groundhogs.
With our rodent control service in Loxahatchee, FL, you can say goodbye to those unwanted guests. Trust our experienced technicians to get rid of rodents and create a rodent-free environment. Prevent infestations before they occur and enjoy a safe, clean home. Don't wait - contact us today for a free inspection and take control of your property.
Mosquito Services in Loxahatchee
Discover the ultimate solution to mosquito and tick control in beautiful Loxahatchee, FL. At Price, we offer a comprehensive mosquito and tick service designed to protect you, your loved ones, and your outdoor time from these tiny but dangerous pests. With our expertise and proven techniques, you can enjoy a mosquito-free environment and peace of mind all year round.
Let us show you how our mosquito and tick service can make a difference:
Free inspection: Our highly skilled exterminators will conduct a thorough inspection of your property to identify breeding and hiding areas.
Fogging: We use EPA-approved liquid sprays to effectively reduce mosquito populations in your yard.
Larvicides in targeted areas: By targeting breeding areas, we can eliminate mosquito larvae and prevent the next generation from ever bothering you.
Mosquito traps: Our In2Care mosquito traps, strategically placed throughout your yard, provide an efficient and low-input solution to control mosquitoes.
Tick control: Protect yourself from harmful tick-borne diseases with our powerful tick control methods.
Immerse yourself in the beauty of Loxahatchee without the annoyance of mosquitoes and ticks. Let Price be your partner in mosquito prevention and tick control. Contact us today for a FREE inspection and take the first step towards reclaiming your outdoor sanctuary.