$50 Off The Best Pest Control Services in Melbourne, FL
If you're in Melbourne, West Melbourne, or Melbourne Beach, Florida, and looking for high-quality pest control services to rid your home of any pesky insects, termites, or rodents, then look no further than Price Termite and Pest Control. Our team of professional exterminators has been providing top-notch pest control services for over 30 years. With our help, you can save up to $50 and enjoy the peace of mind that comes with a bug-free home.
Pest Control in Melbourne and Nearby Areas
Just because Melbourne, FL, is home to the Brevard Zoo doesn't mean we welcome all outdoor life, especially into our homes! If you have pests, there's no one better to help than Price Termite & Pest Control of West Melbourne! Our office services all of Melbourne Florida, including West Melbourne, and Melbourne Beach, Florida. We have the right option for everyone—eco-friendly treatments, organic products, same-day service, and more. Our pest control services in Melbourne will protect you from a variety of unwanted pests, including:
Ants

Roaches

Spiders

Termites

Centipedes

Flies

Wasps

Hornets

Fleas

Ticks

Rodents

And more!
Trust Our Local Exterminators
We're Florida locals, just like you! We've been providing local pest control services here in Melbourne, since 1988! That means we know exactly what you're going through, like ants in the kitchen or wasps in the backyard. All of our local exterminators are fully licensed, thoroughly trained, and stay up-to-date on all the latest industry developments. For pest treatments, you can trust, choose Price Termite & Pest Control!
Image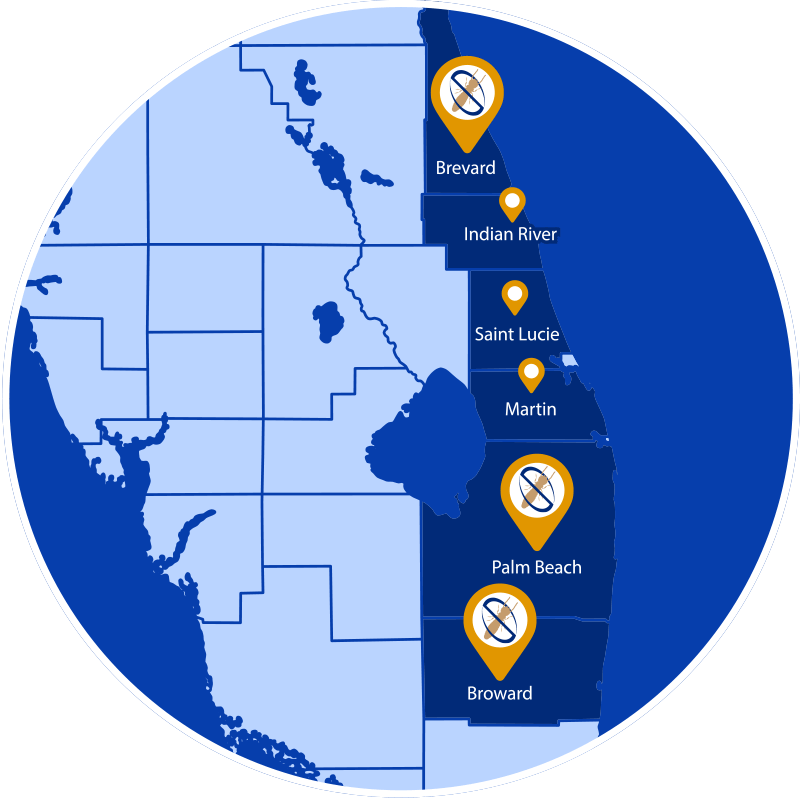 Eco-Friendly Pest Relief in Greater Melbourne
It's not easy to get rid of pests, at least not on your own! Let our local experts take care of things for you with our pest control in Melbourne, FL. We use Integrated Pest Management, which relies on common sense and science-based practices. This approach is eco-friendly and safe for your loved ones, so you don't have anything to worry about.
When you choose our pest control services in Melbourne, West Melbourne, and Melbourne Beach we will:
Get to know you and your specific needs.

Complete a free inspection to look for signs of pest activity.

Determine what type of pests are present.

Make recommendations for sanitation, cleaning, and home repairs.

Use traps or solutions to eliminate pests once and for all.
Termite Control in Melbourne, West Melbourne, and Melbourne Beach
Termites have the ability to cause extensive, irreversible damage, termites are every property owner's worst nightmare. So if you think you have an infestation, its time to get rid of termites fast. Don't let these bugs make your home their lunch. Instead, get expert termite control in Melbourne from our local termite exterminators. If you don't have termites but are looking for ways to prevent them, below are some of our best tips for preventing termites:
Limit wood to soil contact: If you have any kind of wood, from floorboards to firewood on the soil, you're inviting termites into your home. Always elevate wood off the ground to keep termites away.
Use a dehumidifier: If you have any places that you suspect might be harboring termites, consider installing a dehumidifier. Termites love moisture and will avoid places that are dry so give it a try.
Don't use mulch: Termites love mulch for much of the same reasons plants do as it retains moisture and provides protection. Instead of mulch, use rocks or soil, but if you must use mulch, keep it away from the foundation of your home.
Trim branches above your roof: If you have wooden shingles, termites can travel from your trees to your roof.
Schedule routine pest control: Routine pest control services are the very best way to keep pests off your property and out of your home.
To ensure your home is protected against termites and other pests, reach out to Price Termite & Pest Control to schedule your termite treatment in Melbourne or Melbourne Beach today.
Rodent Control in Melbourne, West Melbourne, and Melbourne Beach
There's no doubt about it: a rodent infestation in your home is awful. Not only are they unnerving, but they are also capable of causing severe damage. Rodents are also dangerous, as they are known to inflict painful bites and be one of nature's most potent spreaders of disease. With all of that in mind, you need rodent control services in Melbourne that you can trust. You can rest assured that a local rodent exterminator from Price Termite & Pest Control in greater Melbourne will have both the knowledge and skill to get rid of mice and rats in your home for good! Quality mice and rat removal service is an essential part of keeping a safe home. 
Sign up today, and you'll receive: 
A free and comprehensive rodent inspection

in your home. 

Customized treatment plans

 built to meet your unique needs.

Strategically-placed rodent baits

in and around your home. 

Exclusion and repair service,

which prevents new infestations while reversing the effects of previous ones. 

Protection from rodent-borne diseases

like Hantavirus, Typhus, Salmonella, and Bubonic Plague.

Available one-time or recurring service.

And much more!
Bed Bug Exterminator in Melbourne, West Melbourne, and Melbourne Beach
Sleep peacefully again with our bed bug control service. Our expert bed bug exterminators in Melbourne will get rid of those annoying pests once and for all. Here's what you can expect:
Same-day bed bug inspection, so you don't have to wait around worrying.
Liquid spot treatments to target bed bugs in the affected areas.
Aerosol treatments for those hard-to-reach places.
Pesticide treatments for large infestations.
Our team of specialists will provide an individualized treatment plan based on your unique situation and needs. We understand how disruptive bed bugs can be to your peace of mind, which is why we use targeted treatments to ensure they are fully removed so you can rest assured that bed bugs won't be returning anytime soon. Let us help you get back to a good night's sleep; call us now!
Call Price Termite & Pest Control Today!
From the moment you contact our team for pest control in Melbourne, FL, you'll be treated with courtesy and professionalism. You will speak with a knowledgeable pest agent at Price Termite & Pest Control who is happy to answer your questions and schedule an appointment for a free, in-home estimate.
When you contact us, we will send a well-trained and equipped local exterminator to your home or business. You can expect our professionals to show up on time, in uniform, and driving a company vehicle. Your pest problem will be addressed using non-invasive as well as children- and pet-friendly methods. All materials are EPA-approved and organic pest control is available.
Customers trust our exterminators for pest control in Melbourne because our team:
Is locally owned and operated
Has served our community since 1988
Offers free quotes
Is fully licensed and insured
Employs fully background-checked technicians
Offers evening and weekend appointments
Offers same-day and emergency services
Areas We Service Out of West Melbourne
Not in Melbourne? See if You're Located Within Our Service Area
We service a number of surrounding areas out of our main office in West Melbourne. We aim to provide the highest-quality services in and around the greater Melbourne area; see what local pest control service we can offer in a city near you.
Melbourne Pest Control
Melbourne Beach Pest Control
West Melbourne Pest Control
Titusville Pest Control