$50 Off The Best Pest Control Services in Melbourne, FL
Pest Control in Melbourne
Got pests? Price Termite & Pest Control is here to help. Using top-quality products and state-of-the-art equipment, we rid your home of pests and prevent future infestations from taking place. As the most trusted name in pest control, you can count on our technicians to go the extra mile to deliver the excellent results you deserve.
Our pest control services in Melbourne, FL include:
Termite inspection
Bed bug treatment
Roach control
Spider control
Bee control
Ant control
Flea and tick control
No job is too big or too small for Price Termite & Pest Control to take on. Turn to us for pest control services and rest assured we always get the job done right!
Image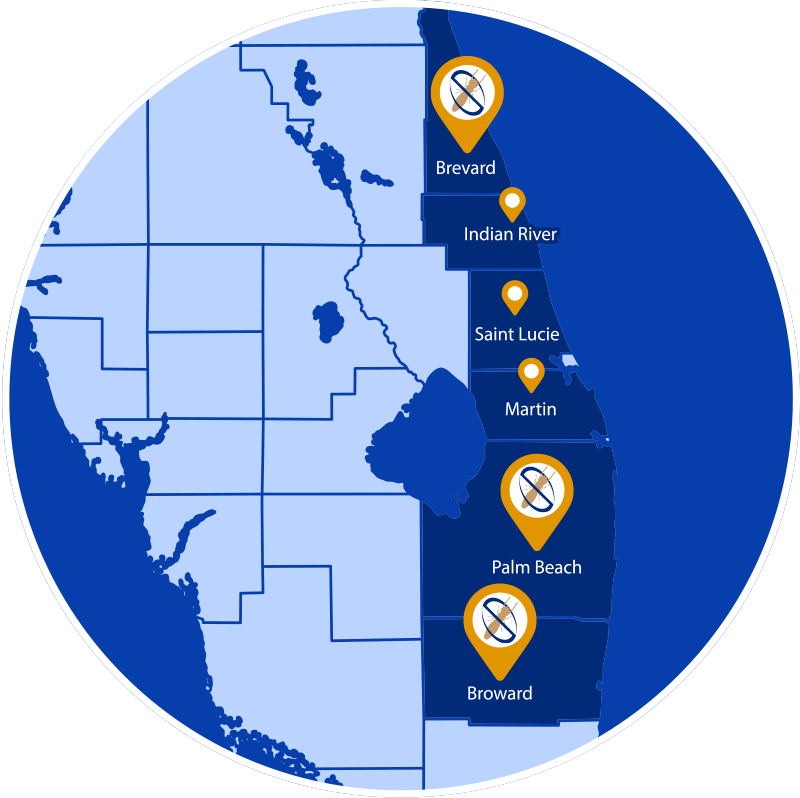 Signs You Need Pest Control in Melbourne, FL
Identifying a pest infestation can be tricky unless you know what to look for. You can't always rely on pest sightings alone because many pests—including rodents and roaches—are skilled at hiding from humans.
Below are signs that you've got a pest problem:
Evidence of nesting
Small, dark droppings
Urine stains
Pungent, persistent odors
Grease or dirt smudges on walls and counters
Chewed wiring
Damaged insulation, drywall, or wooden beams
Holes in floors or walls
Red stains on mattress
Discarded wings or skins
Eggshells
Excessive number of spider webs
If you suspect you have an infestation, turn to Price Termite & Pest Control right away. Prompt treatment is the key to minimizing the damage and restoring comfort and safety to your home right away. Our technicians are skilled in locating, identifying, and treating all types of pests.
How To Prevent Termites in Melbourne
With the ability to cause extensive, irreversible damage, termites are every property owner's worst nightmare.
Below are some of our best tips for preventing termites:
Limit wood to soil contact: If you have any kind of wood, from floorboards to firewood on the soil, you're inviting termites into your home. Always elevate wood off the ground to keep termites away.
Use a dehumidifier: If you have any places that you suspect might be harboring termites, consider installing a dehumidifier. Termites love moisture and will avoid places that are dry so give it a try.
Don't use mulch: Termites love mulch for much of the same reasons plants do as it retains moisture and provides protection. Instead of mulch, use rocks or soil, but if you must use mulch, keep it away from the foundation of your home.
Trim branches above your roof: If you have wooden shingles, termites can travel from your trees to your roof.
Schedule routine pest control: Routine pest control services are the very best way to keep pests off your property and out of your home.
To ensure your home is protected against termites and other pests, reach out to Price Termite & Pest Control to schedule pest control in Melbourne.
Call Price Termite & Pest Control Today!
From the moment you contact our team for pest control in Melbourne, FL, you'll be treated with courtesy and professionalism. You will speak with a knowledgeable pest agent at Price Termite & Pest Control who is happy to answer your questions and schedule an appointment for a free, in-home estimate.
For your appointment, we will send a well-trained and equipped exterminator to your home or business. You can expect our professionals to show up on time, in uniform, and driving a company vehicle. Your pest problem will be addressed using non-invasive as well as children- and pet-friendly methods. All materials are EPA-approved and organic pest control is available.
Customers trust our exterminators for pest control in Melbourne because our team:
Is locally owned and operated
Has served our community since 1988
Offers free quotes
Is fully licensed and insured
Employs fully background checked technicians
Offers evening and weekend appointments
Offers same-day and emergency services
We always stand behind our work and are available to answer your questions.