Take $50 Off The Best Pest Control in Stuart, Florida!
Local Pest Control in Stuart
Stuart is famous for many things, including its beige sandy beaches and historic pedestrian-friendly downtown. But here in the Treasure Coast, with our warm temperatures and humid climate, we also have a multitude of pests, from spiders to cockroaches to ants and centipedes. Some are just plain annoying, while others are harmful and dangerous. That's where Price Termite and Pest Control in Stuart comes in. Regardless of what sort of pest you are dealing with, we have your solution. Family and locally owned, we've been providing excellent, friendly services around greater Stuart for over 30 years. Our pest control services include:
A

free comprehensive pest inspection

and quote.

Flexible scheduling with

same-day, next-day

, and

Saturday service

.

The

option to utilize organic, environmentally friendly pest control

services without the use of chemicals.

Use of an

Integrated Pest Management System

for the most effective yet eco-friendly pest prevention and removal.

Local exterminators

licensed through the state of Florida and knowledgeable on all the latest industry trends.

Our

no-cost retreat guarantee.
Integrated Pest Management
As residents of the treasure coast ourselves, we recognize the importance of protecting our waterways and the Indian River lagoon. That's why we utilize an Integrated Pest Management (IPM) approach in Stuart. This environmentally friendly system relies on a combination of monitoring, identifying, and utilizing the best pest prevention and removal methods available with the least amount of chemical involvement. Our professional local exterminators will evaluate and work with you to determine the safest and least hazardous course of action in eliminating critters and pests.
Image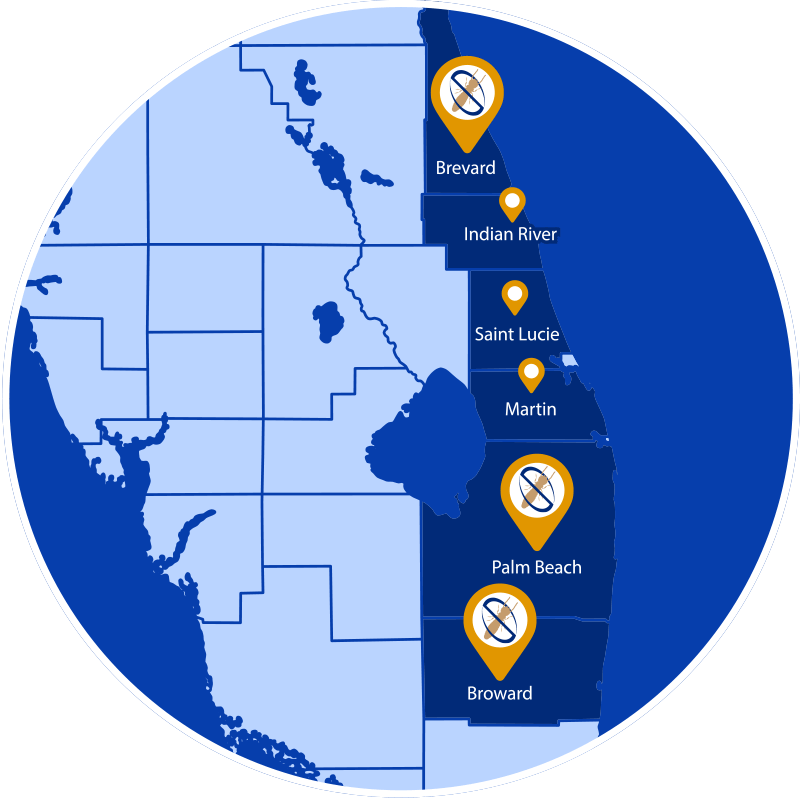 Termite Control in Stuart
While the city of Stuart is a lovely place to live, work or play, our subtropical climate is a breeding ground for structurally damaging termites. These wood-eating home invaders cause an estimated 5 billion in damages to homeowners in Florida every year. Whether you own a current home, are building a new home, or constructing a renovation on an existing property, you will want to ensure a termite infestation is not part of the package. 
Price Termite and Pest Control specializes in termite control and prevention. Starting with a free detailed inspection by one of our expert termite exterminators, we can identify if these critters exist and determine a course of action. From there, you receive:
A

custom treatment plan

utilizing one of our highly effective methods to get rid of termites.

Different termite protection options,

including fumigation and/or baiting.

Long-term ongoing treatment

and prevention. 

One-time

and

recurring treatments

based on your situation.

Our personal promise and

100% guarantee

. 
Pre-Construction Termite Control
Building a new home or reconstructing a new property? Don't allow a hidden infestation to ruin your investment. Termite damage often goes unnoticed until it's too late. Price Termite & Pest Control works with contractors throughout the Treasure Coast on pre-construction termite control. Our skilled technicians can stop the damage from occurring later with our specialized prevention treatments and highly controlled deterrents. Contact us today to find out how and protect the things that matter to you most.
Mosquito Control in Stuart
Here in Stuart, FL, we are surrounded by so much water and natural vegetation. Unfortunately, with all this beauty comes the wrath of blood-sucking mosquitoes and ticks. These annoying pests can put a real damper on our outdoor fun. But with the help of technology and advanced methods, Price can help you get rid of mosquitoes and drastically reduce the population of these insects on your property. By doing so, we will also help protect you and your loved ones from harmful diseases and painful bites.
Our highly effective and advanced outdoor mosquito control includes:
A free inspection conducted by our licensed and skilled exterminators to determine high-impact areas.

Multiple mosquito solutions, including fogging, liquid sprays, larvicides, and mosquito traps.

Use of highly innovative In2Care bucket traps for powerful eradication and prevention.

Personalized treatment plans designed with your family and loved ones in mind.

Over 30 years of experience working with mosquito treatments. 
Rodent Control in Stuart
Have you been noticing unexplained black droppings around your home? Hearing scratching and gnawing noises late at night? You may want to call in the local pest professionals. More than likely, you have a rodent infestation. These shifty little characters carry harmful bacteria and multiple diseases and can cause major damage to your home. Thankfully the team at Price Termite & Pest Control has you covered. Providing rodent removal services throughout the Treasure Coast for over 30 years, we'll have these disease-ridden critters out of your home in no time. 
When you invest in rodent control services with Price, you receive the following:
Free inspection performed by highly trained rat exterminators.
One-time and recurring treatments depending on your situation.
Bait stations positioned strategically around the outside of your property.
Rodent traps placed diplomatically throughout targeted areas of your home.
Flexible scheduling, including same-day and Saturday services.
Exclusion work to effectively prevent rodents from gaining access.
A safe rodent-free home backed by our 100% guarantee!
Bed Bug Treatment in Stuart
Having any type of pest in your home can be unnerving but having bed bugs where you sleep can be frustrating and exhausting. These pea-size critters can be hard to detect and challenging to control. Price Termite & Pest Control has in-house bed bug exterminators who are qualified and specialize in finding these parasitic insects and eradicating them for good. 
Our bed bug removal service includes:
Free inspections to locate and identify the source of these tiny terrors.
Multiple options to get rid of bed bugs, including liquid spot treatments, aerosol applications, and fumigation. 
Advice and purchase of deterrents for the prevention of future infestations including mattress covers and climb-up receptors. 
Same-day and Saturday services available.
Recurring treatments as needed for optimal bed bug control. 
Areas Surrounding Stuart That We Service
Not in Stuart? View the Surrounding Areas We Service
We're dedicated to providing top-quality pest control in greater Palm City, not just for Stuart residents, but for the entire region. Our team is committed to keeping the community safe and pest-free, one property at a time.