Get Up to $50 off Our Pest Control Services in Jupiter!
If you're looking for pest control services in Jupiter, Florida, look no further! With over 30 years of extermination experience, there's no one better equipped to protect your home or business from pests than Price Termite and Pest Control of Jupiter. Save $50 when you sign up for an annual program!
Pest Control in Jupiter
Price Termite & Pest Control of Jupiter, FL, offers comprehensive local pest control services to protect your home and family. With over 30 years of experience in the industry and an exceptional team of licensed exterminators, you can trust us to get rid of even the toughest pests. From general pests and rodents to bed bugs and termites - we have it all covered with our family-friendly treatments that are safe for both people and the environment.
We offer a satisfaction guarantee on recurring pest control services so you can be sure that your home remains pest-free. Moreover, you'll receive same-day or Saturday service, so you don't have to wait too long for relief from annoying pests. Give Price Termite & Pest Control a call today for detailed pest control services tailored to the unique needs of Jupiter customers!
 Our Benefits:
 • Truely local pest control with an office in Jupiter
 • Experienced exterminators with 30+ years expertise 
 • Satisfaction guarantee on recurring pest control 
 • Same-day & Saturday service available 
 • Family-friendly products used to eliminate pests at their source
Image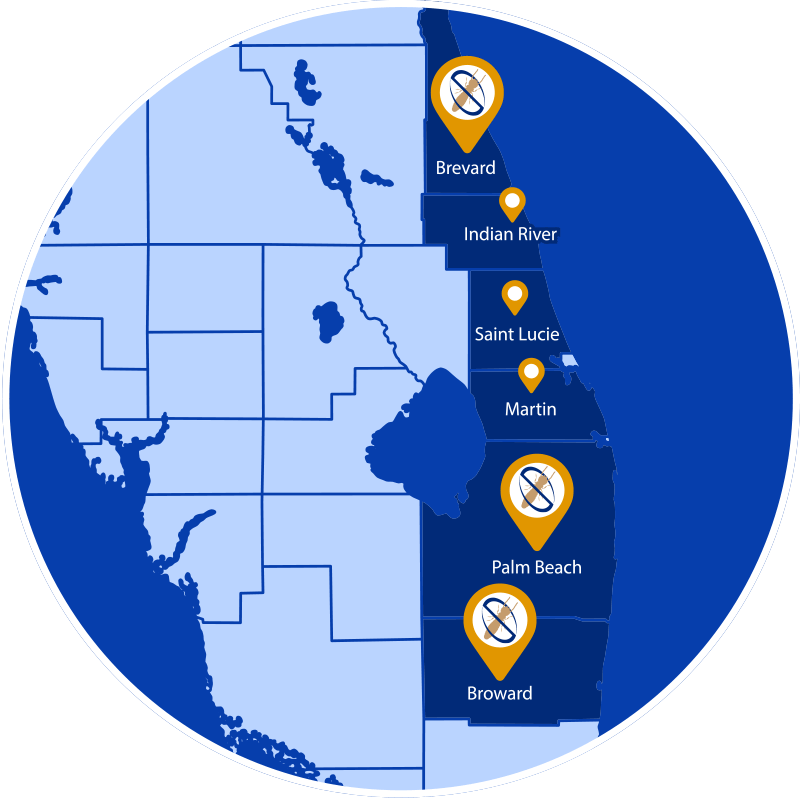 General Pest Control in Jupiter
We understand that sharing your space with pests can be uncomfortable and even dangerous. They can cause irritating bites, damage your belongings, contaminate your food, and can ultimately be a deterrent. If you're looking for a reliable way to keep your family safe and your customers returning, trust Price Pest Control for all your residential and commercial pest control needs. We offer same-day treatments, as well as Saturday servicing in Jupiter, so you never have to wait for relief!
Our routine general pest control service in Jupiter covers a variety of common pests, such as:
Ants

Cockroaches

Rodents 

Spiders

Centipedes

Flies

Wasps

And more!
Termite Exterminator in Jupiter
Termites can wreak extreme damage on a house or a business property within weeks, if not days. To prevent your building from collapsing due to a weakened infrastructure from a termite infestation, reach out to us as soon as possible. We provide expert termite treatments to help eliminate termites, prevent them from returning, and reclaim your home.
Our termite control service can handle any termite issue, including those involving:
Subterranean termites
Drywood termites
Preconstruction termite control
Termite prevention
Termite inspections
Termite baiting systems
Fumigation
Mosquito and Tick Control in Jupiter
How To Prevent The Need For Mosquito Control
Cut your foliage and trim your shrubs - Mosquitos cannot survive in direct sunlight so they like to roam in the shade. If you rid your property of shady places then you'll give yourself a good chance of not needing our Jupiter mosquito control specialists.
Get rid of standing water - Mosquitos need standing water in order to lay their eggs. So if you have any empty rain buckets then empty them. Any standing water you want like a water garden should be treated to get rid of mosquito eggs. Consider a dehumidifier for your home if you have an abundance of mosquitos in your living quarters.
Use fans - Take mosquito control into your own hands with fans. Since mosquitos are quite light they blow away easily if you have blowing fans set up around ankle height at your next get-together.
Clean your gutters - If you want to ensure that you won't need our mosquito exterminators, then make sure to clean your gutters. If your gutters aren't draining then they'll have standing water enough for mosquitos to lay their eggs leading to an infestation.
Rodent Exterminator in Jupiter
Having a rat or mouse on your lawn or in your house is not what you want. Rodents can cause serious damage to a house while also carrying diseases that might put you or your family at risk. It's necessary to have a way to get rid of mice and rats, so you can get back to feeling comfortable in your home. Our expert rat exterminators can take care of your home with the most efficient care in greater Jupiter.
Our rodent control services include: 
A free pest inspection

performed by our licensed rodent exterminators. 

Bait stations and traps

to reduce the rodent population. 

Repairs and work to the house

to prevent and control rodents from reentering. 
A peaceful home is within your reach with our ongoing mouse and rat control services. Schedule an appointment with us today, and we'll offer $50 off your initial fee. This package can be a one-time or recurring service, depending on what you need, so there is no risk and all the rewards of a rodent-free home.
Schedule Effective Pest Control in Jupiter Today!
Whenever our team arrives at your home, you can count on our technicians to be professional at all times – in uniform, fully equipped, and never late. At Price Termite & Pest Control, we are determined to offer the highest quality of workmanship and will not rest until your pest problem is completely resolved.
Areas We Service Out of Jupiter
Not in Jupiter? See if You're Located Within Our Service Area
We're proud to service a number of areas out of our main office in Jupiter! It's our aim to provide the highest-quality localized services in and around greater Jupiter, so see what pest control services we can offer in a city near you.