$50 Off The Best Pest Control in Palm Beach Gardens!
Pest Control in Palm Beach Gardens
When you come home, you should be able to rest and recuperate from the rush of everyday life. But if pests are in your home, that goes right out the window! Our integrated, targeted, and proven pest control in Palm Beach Gardens aims to return the peace of your home so you can be your best self. Did you know that we've been servicing greater Palm Beach Gardens since 1988? Rest assured that we have the local experience necessary to effectively treat all your local pest problems.
When you partner with Price Termite and Pest Control, you expect:
Courteous and professional service.

Free pest inspections.

A tailored treatment plan built for your home or business.

EPA-approved treatments and organic options.

Satisfaction guarantees on recurring services.

And more!
We invest substantially in our exterminators so they can deliver the highest quality pest control and customer care to you and your family. Connect with us today to get rid of pests in your home, and get back your place of rest!
30+Years of Pest Control
Since 1988, we've been practicing pest control around West Palm Beach. You can bet we've learned a lot in that timeframe. Every hard-earned lesson we've learned goes to work for you when we remove pests from your home!
Image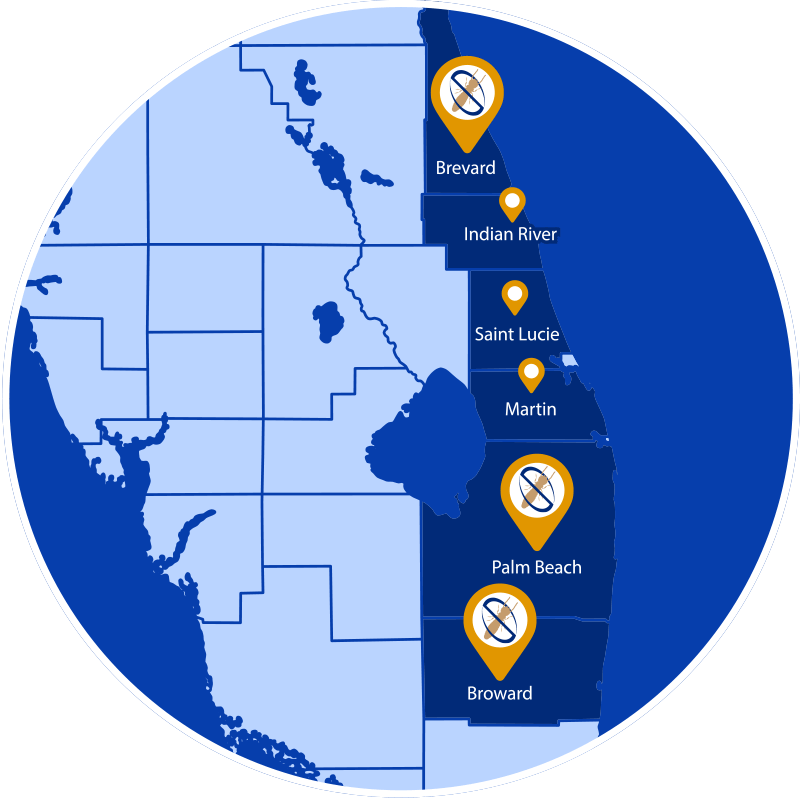 Termite Control in Palm Beach Gardens
Termites never sleep and hardly leave a trace as they hollow out the wood in homes across the country. They will never break the surface of the wood on which they're feeding, allowing them to do extensive damage before ever being noticed. Our highly trained termite exterminators have a trained eye for diagnosing termite activity so you can catch it early on and protect the investment you've made in your home. 
Our termite control services in Palm Beach Gardens include:
Free termite inspection.

A custom treatment plan developed for your home.

Various termite treatment methods.

Recurring service visits for guaranteed termite eradication.

Preventative and non-intrusive termite treatment.

And more!
We pride ourselves on highly effective termite control and protection to safeguard homes here in Palm Beach Gardens. Secure your home with our proven track record of protection.
Bed Bug Treatment in Palm Beach Gardens
Although bed bugs don't transmit diseases like other pests, an active infestation can dramatically detract from your quality of life. These pests find their way into new homes on luggage and used furniture, feeding on our blood while we sleep. We've honed our bed bug treatment so that you don't have to share your bed with these parasites a moment longer.
When you partner with Price for bed bug treatment in Palm Beach Gardens, you can count on:
A free and thorough bed bug inspection.

Same-day, next-day, and Saturday service.

A custom treatment plan developed for your home.

EPA-approved products to keep you and your family safe.

Bed bug treatment methods for any size of infestation.

Recurring treatments for complete peace of mind.
You can trust our friendly and expert bed bug removal specialists to lay out the best route to complete bed bug removal so you can once again sleep soundly. 
Rodent Control in Palm Beach Gardens
Humans and rodents have a long track record together. Practically since we began living in settled communities, rats and mice have been living with us. That means 2 things: 1) they're good at hiding from us, and 2) they carry many diseases that we can catch. This makes effective rodent control both difficult and very important. Over the past 3 decades, we've honed our rodent removal methods to get rid of them quickly and effectively. 
Our rodent control in Palm Beach Gardens includes:
A free rodent inspection.

An individualized treatment plan for you.

Exterior rodent baiting.

Interior trapping.

Rodent exclusion.

One-time or recurring service.

 
As soon as you notice signs of rats and mice—like gnawed pantry items, fecal pellets around your home, or strange sounds in the walls or attic at night—reach out to Price so the infestation doesn't worsen. Our same-day, next-day, and Saturday service mean we will have an expert exterminator at your door to get rid of rats and mice right away.
Mosquito and Tick Control in Palm Beach Gardens
Nothing ruins time outside like constantly swatting at mosquitoes—or coming inside and discovering a tick on you! When you want to really enjoy outdoor time in your yard, look to Price Termite and Pest Control for help. Our mosquito, tick, and flea control dramatically reduce the number of these pests in your yard so you can spend more worry-free time outside.
Mosquito Control –

We will fog mosquito resting places, treat breeding areas, and/or set up state-of-the-art mosquito traps.

Tick Control –

We will spray a specialized insecticide throughout your yard to kill present ticks and prevent new ones from moving in.

Flea Control –

We will treat your yard and your home's interior, as well as ensure pets receive proper flea prevention medication.
Get in touch with the Price team to learn more about how we can safeguard your yard and home from these unsightly pests.
Your Local Experts
As a locally owned and operated pest control company, we pride ourselves on delivering quality, neighborly service here in Palm Beach Gardens. We know the local pests better than any national competitor, and employ a variety of treatment options for optimal results. When in doubt, go with the locals at Price Termite & Pest Control!