Say Goodbye to Pests and Hello to Savings in Margate!
At Price Termite and Pest Control, we offer the best professional pest control services in Margate. Our experienced exterminators can help you get rid of pests while saving you up to $50.
Pest Control in Margate, FL
Since opening our doors in 1988, Price Termite & Pest Control has remained a proud leader in pest control in greater Ft. Lauderdale, including here in the city of Margate, Florida. As a locally owned and operated company, we take great pride in serving all members of the Margate community and promise to always go above and beyond to deliver the exceptional service you expect and deserve. So, whether you want to eliminate an existing infestation or begin preventative treatments, we've got you covered.
Our pest control services in Margate include:
Termite control
Pre-construction termite control
Rodent control
Rodent removal
Bed bug treatment
Mosquito control
Lawn treatment
Roach control
Spider control
Bee control
Centipede control
Flea and tick control
No matter what pest you are dealing with, Price Termite & Pest Control has a solution. Get rid of pests and get back to enjoying your space with help from our local exterminators today!
Image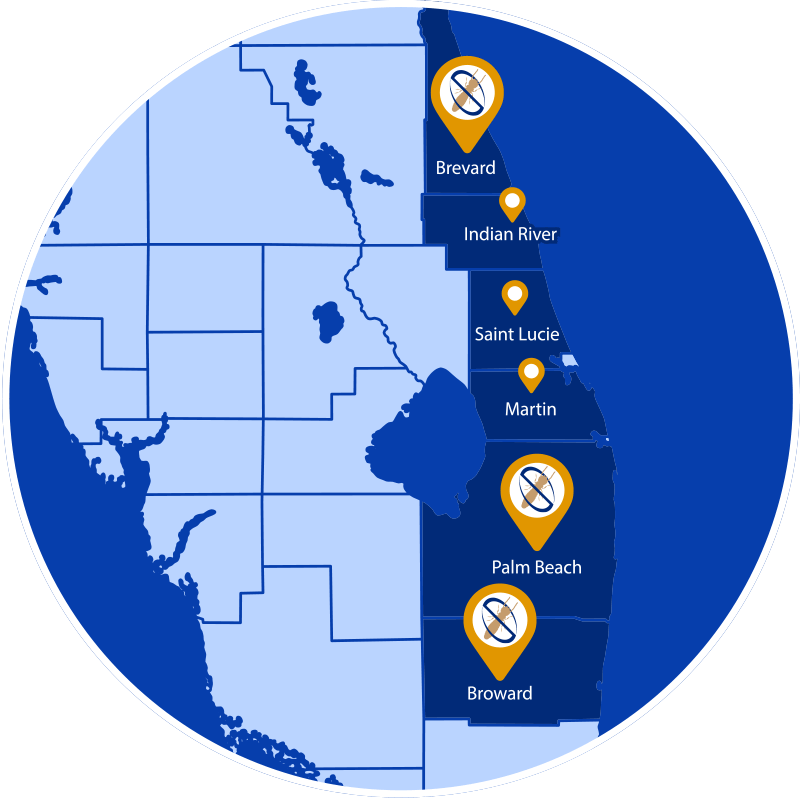 Tips for Preventing Pests in Margate
No one wants to find pests in their home. Luckily, there are a number of preventative measures you can take to reduce the risk of an infestation. The most important preventative measure is scheduling recurring, professional pest control. Pest control services ensure your entire property is protected against a multitude of common invaders year-round. In addition, it takes care of any pests that make their way inside between treatments.
In addition to regular pest control, you can prevent pests by:
Sweeping away spiders webs when you come across them
Cleaning your gutter regularly
Vacuuming your floors
Putting pet food away
Storing all leftovers in airtight containers
Taking your trash out regularly
Washing your dishes before bed each night
Repairing plumbing and roof leaks
Repairing holes in window and door screens
Sealing cracks or gaps in your foundation
To ensure your home is protected against pests, reach out to Price Termite & Pest Control today. Our team offers efficient, effective, and affordable pest control in Margate.
Termite Treatment in Margate, FL
As one of the most dreaded pests around, termites can eat away at your home for years before you ever even realize they are there. By the time you realize you have an infestation, they've likely caused thousands of dollars in structural problems. That sounds scary, but you can rely on the experts at Price to get rid of termites and protect your home. Whether you have an active infestation or want to prevent one, we have the solution for you.
When you trust our termite control in Margate, we will:
Conduct a free termite inspection to look for signs of damage.
Create a custom plan that meets your specific needs.
Use products that are proven to work while still being safe for your family.
Schedule ongoing treatments to keep your home termite-free.
Give you our 100% satisfaction guarantee for your peace of mind.
To avoid such a disaster, we recommend becoming familiar with the signs of an infestation. That way, you can have Price Termite & Pest Control take care of your termite problem before it results in irreversible damage.
Signs of a Termite Infestation
If you're wondering if you have termites, there are common signs you can look out for. Seven signs of a termite infestation include:
Mud tunnels going from the ground up along the side of your home
Winged termites flying by windows and doors
Piles of frass (termite poop that looks like coffee grounds)
Doors and windows that have become difficult to open and shut
Quiet clicking sounds in walls
Extra-creaky floors
Hollow-sounding walls or beams
Give us a call today, and we'll get rid of termites and restore comfort and safety to your home in no time.
Rodent Control in Margate
When there are rodents roaming around your property, it can be hard to relax. They cause millions of dollars in damages to homes every year and could harm your family with the diseases they carry. If you have noticed a mouse crawling at your feet, it's time to get rid of them with the help of professionals. 
Price Termite and Pest Control has a package to specifically to get get rid of rodents in your home. With an expert trained rodent exterminator, you'll be back to relaxing in your house in no time. Plus, we have $50 off our rodent control so you can get the pests out without breaking the bank. Our rodent removal package includes: 
Free inspection

of the home by a rodent exterminator to determine problem areas of infestation.

Bait stations and traps

to get rid of rats and mice. 

Home repairs

in any place the rodents used as an entry or exit point. 

One-time or recurring services

.
Mosquito Control in Margate
Are you tired of losing out on precious family time to pesky parasites like mosquitoes and ticks? Our Margate mosquito and tick control service is here to put an end to it. Our methods are proven effective, with over 30 years of pest control experience.
Here's what you can expect when you choose our mosquito and tick control service in Margate:
A free inspection to target breeding and hiding areas.
Personalized treatment plans tailored to your specific needs.
Fogging, EPA-approved liquid sprays, and larvicides for targeted areas, and effective mosquito traps, including our advanced In2Care bucket treatment.
Reduced mosquito and tick populations in your yard that will last.
A warm climate like Margate's creates a need for seasonal mosquito and tick control. Don't let these pests ruin your time outdoors! Our methods are designed to dramatically reduce their populations and your risk of coming into contact with them.
Take advantage of our free consultation and learn how our mosquito control in Margate can improve the quality of life for your entire family. Our techniques are designed to prevent mosquitos, not just ward them off. Say goodbye to swatting and hello to enjoyable outdoor activities with our mosquito and tick treatments.
Don't let these pests control your outdoor activities any longer. Reach out to us today and start enjoying your time outside without the threat of mosquitos and ticks.
Bed Bug Exterminator in Margate
Sleep peacefully with our bed bug control service in Margate! Have you been waking up with itchy bites and suspect a bed bug infestation? Don't lose another night's sleep - call our expert bed bug exterminators in Margate today! Trust us to get rid of bed bugs so you can rest easy.
Why choose us for bed bug treatment in Margate?
Same-day inspection: We understand that bed bugs can be an urgent problem that needs to be addressed right away. That's why we offer same-day bed bug inspections in Margate to give you peace of mind as soon as possible.
Liquid treatments: Our liquid spot treatments are a targeted solution to kill bed bugs on contact. With our state-of-the-art equipment and expert know-how, we can quickly and effectively treat your bed bug problem.
Aerosol treatments: For smaller infestations, our aerosol treatments provide an effective solution. We use a powerful insecticide that is safe for you and your family but deadly for bed bugs.
Pesticide treatments: For larger infestations, we may recommend fumigation to ensure complete eradication of bed bugs. Our bed bug exterminators in Margate are trained to handle even the toughest cases with care and expertise.
Don't let bed bugs disrupt your peace of mind any longer. Trust our bed bug control service in Margate to get the job done right. We work with you every step of the way to ensure a customized treatment plan that meets your needs and eliminates bed bugs for good.
Contact us today for a free quote and take the first step towards a good night's sleep.
Schedule Your Pest Control Service Today!
When you choose Price Termite & Pest Control for pest control in Margate, FL, you can count on our team to provide the premium-quality service you deserve. From the moment you first call us until your service is complete, we adhere to the highest standards in workmanship, communication, and professionalism. Using EPA-approved materials and products, we rid your home or business of pests and keep them from returning in the future.
Customers choose Price Termite & Pest Control time and time against because:
We provide free pest estimates
All our technicians are licensed and insured
We offer evening and weekend appointments
Our company is locally owned and operated
We provide same-day and emergency services
Our team is backed by 30+ years of service
With decades of service experience under our belts, no job is too big or too small for Price Termite & Pest Control to take on. We always get the job done right.
Areas We Service Out of Margate
Not in Margate? See if You're Located Within Our Service Area
We service a number of areas out of our main office in Margate! We aim to provide high-quality localized services in and around greater Margate; see what pest control service we can offer in a city near you.