Save $50 on Pest Control Services in West Melbourne!
Pest Control in West Melbourne
Life in West Melbourne has many perks, from great public parks to beautiful wildlife walkways. But living in such a charming city doesn't mean you won't deal with unwanted pests in your home. Whether spiders are occupying the corners of your bathrooms or cockroaches are scuttling on your floors, Price Termite and Pest Control has solutions for you. We've been providing pest control services in greater Palm Bay since 1988, so rest assured that we know how to deal with the pest of Florida's coast, including those found in W. Melbourne!
When you choose us for pest control in West Melbourne, you can count on: 
Free pest inspections and quotes.

Courteous service by our expert exterminators.

Recurring or one-time pest treatments.

Individualized service that fits your situation.

Residential or Commercial pest removal.

Organic treatment options.

And more!
Expert Local Exterminators 
We know that we as a pest control company are only as good as our exterminators out in the field. That's why we invest heavily in developing their expertise. Each of our pest control technicians holds a license from the state, undergoes thorough training upon hiring, and continues their education each year. Every Price exterminator knows their stuff and is always learning more so they can better serve you. Get rid of pests today with help from our expert technicians today.
Image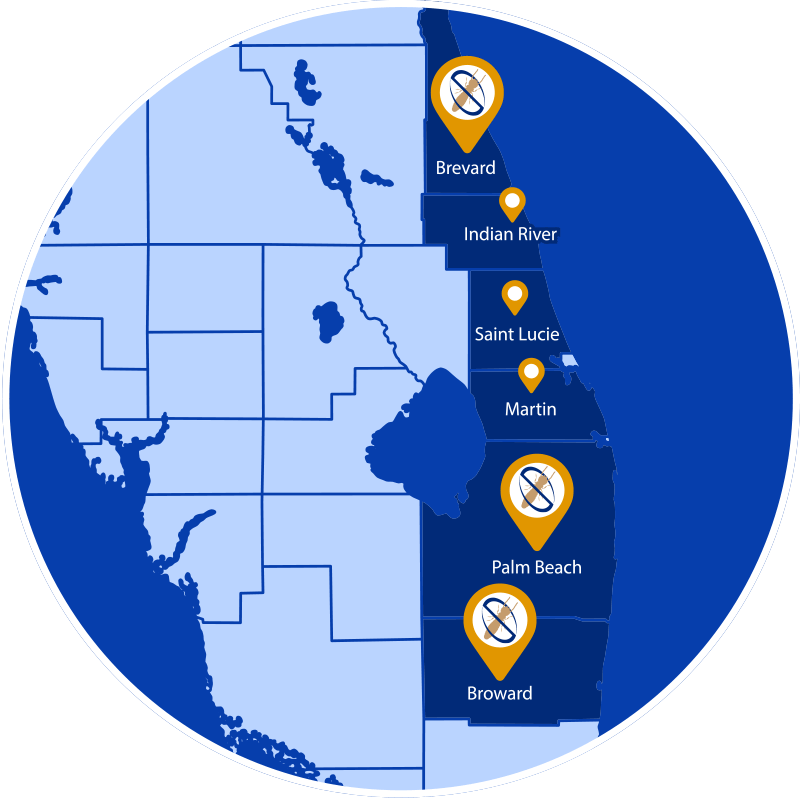 Termite Control in West Melbourne
Florida's warm year-round climate makes it a lovely place to live—for humans and termites! While termites feed on homes in practically every one of the states, their activity slows in the winter months in areas with cold winters, then ramps back up in the summer. That's not the case here in Florida: The mild winter temperatures allow subterranean termites to keep foraging and feeding year-round, which means they can dole out more damage here than in states farther north. Termite protection is a must here in West Melbourne.
Our termite control services protect your West Melbourne home or business with: 
Free, thorough termite inspections.

Treatment plans tailored to your situation.

Various termite treatment methods, from spot treatments to full-home fumigation.

Pre-construction termite prevention to safeguard new homes

Both one-time, and recurring treatments.

 
Don't feel like you have to go it alone when it comes to termites. Our free inspection will give you an idea of termite activity, and help you chart a path forward in protecting your home from these wood-destroying insects. Get rid of termites today with help from our termite exterminators here in West Melbourne. We'll protect your home long-term.
Bed Bug Treatment in West Melbourne
A common misconception about bed bugs goes that you only get them if your home is dirty or cluttered. That is not the case. Bed bugs are uniquely adapted to sneakily hitching rides into new homes on luggage and used furniture, then hide in the tightest spaces. This means all homes are at risk of a bed bug infestation. No one wants to ruin their night's sleep by having bed bugs crawling around. So, if they find their way into your home, we're trained and equipped to get them out fast!
When you call us for bed bug treatment, our bed bug exterminators will: 
Carefully inspect your home to determine the extent of the infestation.

Recommend specific bed bug treatment methods based on what they find.

Get rid of bed bugs quickly and effectively.
Although bed bugs don't transmit harmful diseases, an infestation can quickly grow and get out of hand. If you suspect you have bed bugs, get in touch with our expert team for professional bed bug control and removal with targeted treatments!
Rodent Control in West Melbourne
Rats and mice in your home usually lead to damage to insulation and the structure of your home, contaminated food, and a heightened risk of contracting a rodent-borne disease. Obviously, none of these are in your best interest, meaning you need quick and efficient rodent removal to take care of your rat infestation right away. So, if you think these furry pests might be in your home, contact us to get rid of rats and mice today.
Our highly-trained rodent exterminators in West Melbourne will: 
Inspect your home for nesting sites and rodent thoroughfares.

Place bait stations outside your home.

Set traps in strategic locations within your home.

Seal holes and gaps so that rodents can't enter your home.

Lend you helpful insights to prevent future rodent infestations.

 
Our fast and proven rodent control in West Melbourne protects your home against damage and your family against the illnesses rodents are known to transmit. Our 30+ years of rodent control mean you can rest assured your home or business will be rodent-free. Don't settle for anything less than the best when it comes to rodent control services in Florida.
Mosquito and Tick Control in West Melbourne
Our yards expand our living space, provide us with healthy opportunities to be outdoors, and far more. But the presence of parasites like mosquitoes, ticks, and fleas can push us indoors. Don't let these yard pests rob you of outdoor time! You can rely on Price's tick and mosquito control to drop the number of these pests in your yard so you can fully enjoy the space.
Our mosquito control in West Melbourne gives you back your yard by:
Identifying areas that harbor each species.

Spraying your yard to kill active pests and repel others.

Installing traps that eliminate the local mosquito population.

Following up 10-14 days after the initial service to retreat.

And more!
If your backyard is plagued by ticks or mosquitoes, Contact Price today. We will not only get rid of mosquitoes and ticks, but we will help prevent them from coming back. When you want to reclaim your outdoor spaces, get help from our local team with our tick and mosquito control services in West Melbourne, FL.
Same-Day and Saturday Service
For most pest infestations, time is of the essence. We believe that you shouldn't have to wait around for relief. That is why we provide Same-Day, Next-Day, and Saturday service so that you don't have to wait for professional pest removal. Call us as soon as you know you need pest control, and we'll be there to help!
Areas We Service Out of West Melbourne
Not in W. Melbourne? See if You're Located Within Our Service Area
We service a number of surrounding areas out of our main office in West Melbourne. We aim to provide the highest-quality services in and around greater West Melbourne; see what local pest control service we can offer in a city near you.