Get $50 Off Pest Control Services in Port St. Lucie!
Pest Control in Port St. Lucie
Mice, spiders, roaches, centipedes—none of these belong in your home! But getting them out once they're in is easier said than done, especially when you try and tackle it with DIY pest control products. If you're dealing with unwanted pests in your home, call the Price Termite and Pest Control Jupiter office for fast, safe, and lasting pest relief. Dealing with multiple pests? No problem! We're your one-stop shop for all pest infestations here on Florida's Atlantic Coast. 
When you choose Price for pest removal in Port St. Lucie, our experienced exterminators will offer:
Free pest inspections

so you know what's invading your home and where.

An individualized treatment plan

built for your unique circumstances.

Organic treatment options

for total peace of mind.

Flexible service times

to accommodate your schedule.

Recurring or one-time service

to meet your needs.

A pest-free home!
Trust Our Highly Trained Exterminators
We know that delivering the best service comes down to employing the best people. Along with being courteous and smart, each of our exterminators is licensed by the state. Our team undergoes thorough training during onboarding and completes continuing education every year to stay on top of the best and safest pest treatment options. When you choose us, you can rest assured you are in good hands!
Image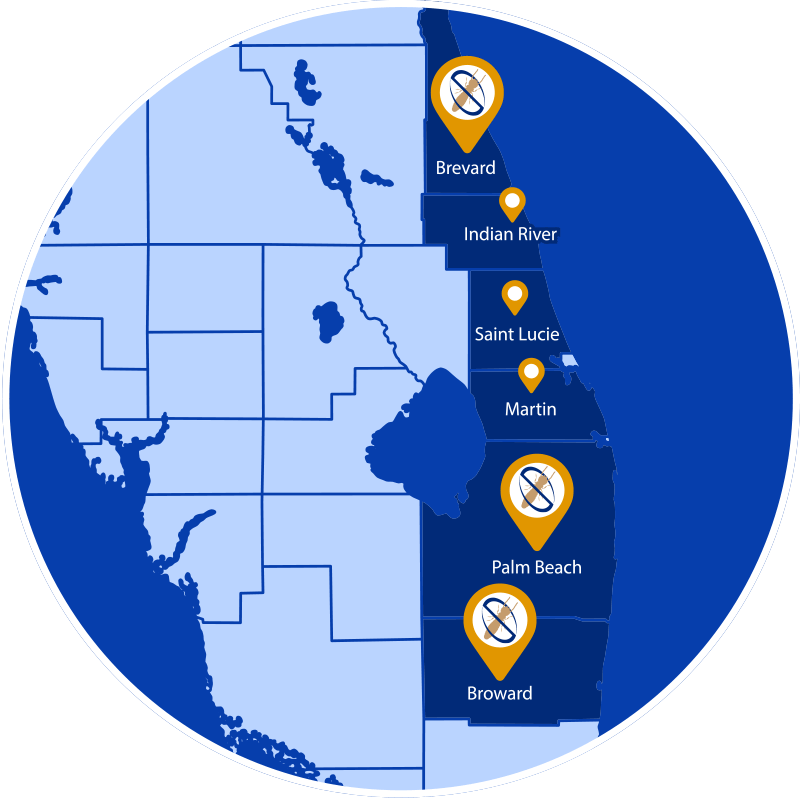 Termite Control in Port St. Lucie
While all pests are sneaky to some degree, termites are among the best. For months, they can hollow out wooden timbers in a home without leaving a visible trace. Often, by the time a homeowner discovers termite activity, costly damage to their home has already been done. We consider termite control in Port St. Lucie one of our key services because of how much money it can save folks in either termite repairs or the lost value of their home due to termite damage.
Our termite control services in Port St. Lucie will:
Determine whether you have, or have had, termite activity in your home.

Remove existing termite colonies

feeding on your home.

Protect your home from future infestations

.

Prevent termites from feeding on newly built homes.

Employ

proven termite control and prevention methods

.

Offer you a

variety of treatment options

.

Give you peace of mind that your home is safe.
Treatments You Can Trust
Homeowner's insurance rarely covers termite damage, which leaves you footing the bill. Secure your financial investment in your home with proven, proactive termite treatment from Price.
Bed Bug Treatment in Port St. Lucie
Your bed should be the ultimate place of rest and recovery. But when you begin waking up with strange bites, it can seem far less inviting. If you've noticed bites on your body, a foul odor coming from your bedding, or spotted apple-seed-sized bugs in your home, you might be dealing with bed bugs. Price Termite and Pest Control's expert exterminators can help you get rid of bed bugs with safe and effective treatment methods.
Our bed bug treatment in Port St. Lucie includes:
A

free bed bug inspection

.

A

bed bug treatment plan designed specifically for you

.

Multiple treatment options

, allowing more catered service.

One-time or recurring treatments

to keep bed bugs gone for good.

Same-Day and Saturday service

so you don't have to wait for help.

And more!
Rodent Control in Port St. Lucie
Although no one aims to have rodents living in their homes, the risks that rodents present to humans in a shared space are often underappreciated. Along with carrying diseases, we can catch, rodents have been known to cause electrical fires in homes by chewing on live wires. It's just not worth the risk! Our top-of-the-line rodent removal takes rodents out of your home and you out of harm's way.
When you choose Price for rodent control in Port St. Lucie, you can expect: 
A

free rodent inspection

.

A rodent

treatment plan tailored to your situation

.

Exterior rodent baiting and interior rodent baiting.

Rodent exclusion and repairs

on your home.

One-time and recurring services

.

And More

!
Our courteous and highly trained exterminators will work with you from start to finish, offering personalized service and quality results. Get in touch with Price for rapid relief!
Mosquito and Tick Control in Port St. Lucie
The worst kinds of pests are those that live off other beings to survive. Whether they're buzzing mosquitoes, shifty ticks, or leaping fleas, no one wants them in their home or yard! We get it. Our mosquito and tick control targets these parasitic pests with treatments that are tough on pests, but safe for humans.
Our flea, tick, and mosquito control services include include:
Professional inspections

to pinpoint problem areas.

Treatment of your yard and home (if necessary).

Recurring treatments

for long-term protection.

Cutting-edge mosquito treatment technology

.
Whether you want your yard back from mosquitoes for patio time, or want extra protection against tick-borne disease for your children or pets, Price has you covered!
Pest Control When You Need It
You shouldn't have to put up with pests any longer than necessary—especially when they endanger your health or home! That's why we offer Same-Day, Next-Day, and Saturday service. If pests are taking over your home, don't wait another moment to call Price for fast, expert help.
Areas We Service Near Port St. Lucie
Not in Port St. Lucie? View the Surrounding Areas We Service
We also service a number of cities outside of the greater Port St. Lucie area. Discover the specific local pest control services we can offer in your city: