Save $50 on Your Pest Control Services in Rockledge
Pest Control in Rockledge
Sunny Florida isn't just a paradise for people, but for pests as well. Our warm, humid weather and mild winters mean that bugs never take a break and can often end up in your Rockledge home. Rather than chasing them all over our house, let the local pros at Price Termite & Pest Control protect your home and loved ones from:
Ants

Roaches

Spiders

Centipedes

Hornets

Flies

Wasps

Fleas and ticks

And many more!
Pest Treatments on Your Schedule
Household pests tend to come and go as they see fit. That's exactly why we adapt to their haphazard schedule by offering available same-day, next-day, and Saturday pest control services in Rockledge! Did you know that we've been providing pest control in Palm Bay and surrounding areas, just like here in Rockledge, since 1988? Our valued local customers all around the Florida coast shouldn't have to live with unwanted bugs any longer than absolutely necessary, so partner with us if you want to get rid of pests today! 
Image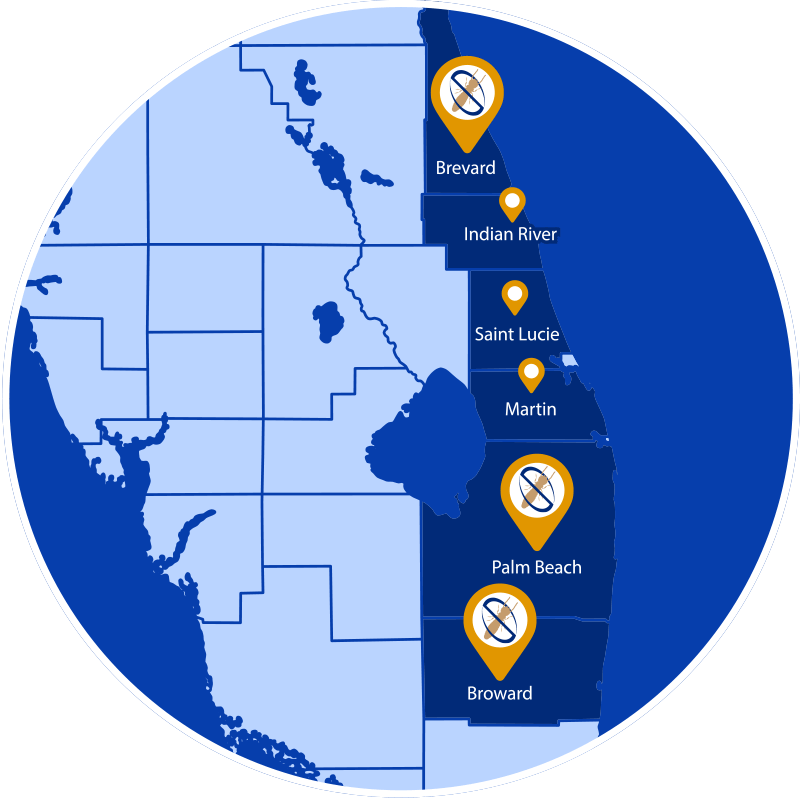 Reclaim Your Home from Unwanted Pests
A pest infestation is one of the least pleasant experiences that you can have as a homeowner. But when you've got a dependable, experienced pest control company on your side, even severe bug problems can be resolved in a hurry. With more than 30 years of local, hands-on experience backing us up, you can expect the following when you work with us:
A free in-home inspection

from an experienced, local exterminator. 

Flexible and adaptive service

that we'll adjust to meet your unique needs.

Strategic and specially-targeted treatments

to deliver the lasting results that you need. 

Organic, EPA-approved products

which keep your loved ones and the local environment safe. 

Available recurring pest control treatments

for year-round protection.

Our complete satisfaction guarantee.

And much, much more! 
Mosquito Control in Rockledge
Discover the ultimate mosquito and tick control in Rockledge, FL, with Price Pest Control. Our unique services are designed to keep your outdoor time free of irritating pests and dangerous diseases. Check out what we offer:
Free inspection to locate breeding and hiding areas
Fogging and EPA-approved liquid sprays to drastically reduce mosquitoes and ticks
Targeted larvicides to hit those hard-to-reach areas
In2care bucket treatment for efficient and effective mosquito control
Tick control to protect you and your loved ones from harmful diseases
Get back outside and enjoy your porch without the annoyance of mosquito bites and tick infestations. Our proven techniques have been honed by over 30+ years of pest control experience and will provide you with peace of mind. Don't let pests ruin your outdoor fun - Choose Price Pest Control for all your mosquito prevention and tick control needs.
Rodent Exterminator in Rockledge
Are strange noises keeping you up at night? Don't let rodents take over your Rockledge, FL home. Our professional and experienced rodent exterminators in Rockledge are here to help with our comprehensive rodent control service. Here's what we offer:
Free rodent inspection to identify the scope of the problem
Exterior rodent bait boxes to prevent future infestations
Interior trapping to get rid of any present rats, mice, or varmints
Structural modifications to exclude rodents from entering
Ongoing services to prevent future infestations
Specializing in rodent removal (sorry, no groundhogs)
Our skilled technicians will place bait and traps in strategic locations that are inaccessible to pets and children but easy for rodents to find. We use the latest techniques and tools to keep your home rodent-free. Trust us to take care of the problem with our professional rodent control service in Rockledge.
Termite Exterminator in Rockledge
Are you tired of sharing your home with unwanted termites? Our termite exterminator in Rockledge is here to help. With over 30 years of experience, our termite control service offers effective treatments, ongoing monitoring, and prevention to keep your home termite-free. Here's what you can expect from our services:
Free termite inspection by one of our expert exterminators.
Custom treatment plan that suits your situation, whether you need a one-time service or recurring treatments to keep termites at bay.
Safe, efficient, and proven treatments that get rid of termites for good.
Ongoing protection to prevent future infestations and give you peace of mind.
Don't let termites damage your home any longer. With our termite control service in Rockledge, you can trust that we'll take care of the problem. Contact us today to schedule your free inspection and get started on a termite-free home.
Bed bug Exterminator in Rockledge
Get rid of bed bugs and sleep soundly again with our bed bug control service in Rockledge. Our experienced bed bug exterminator will provide a same-day inspection to assess the severity of the issue.
We offer a range of treatments tailored to your specific situation, including liquid spot treatments, aerosol treatments, and pesticide treatments.
Our highly-trained technicians will work with you every step of the way to ensure that your bed bug problem is thoroughly solved.
With our bed bug treatment options, you can expect:
A free inspection from one of our bed bug exterminators
An individualized treatment plan based on your situation and needs
Targeted treatment to get rid of bed bugs
Mattress covers and climb-up interceptors
Recurring treatments to ensure bed bugs stay gone for the long run
Don't let bed bugs disrupt your peace of mind any longer. Choose our bed bug control service in Rockledge for efficient and effective removal.