$50 Off The Best Pest Control in Fort Lauderdale
Our professional Fort Lauderdale exterminators specialize in getting rid of all types of pests and we're currently offering up to $50 off your first service. Let our trained experts handle your pest control needs and experience the best service on Florida's Atlantic Coast.
Pest Control in Fort Lauderdale
Pest infestations can start out as a minor inconvenience and become an overwhelming issue almost overnight. While DIY options might sound like a good idea, they only provide short-term relief and don't get rid of bugs at their source. For pest control in Fort Lauderdale that really works, trust Price Termite & Pest Control of the gold coast.
Our pest control treatments will protect your home from:
Ants

Roaches

Spiders

Centipedes

Flies

Wasps

Hornets

Fleas

Ticks

Lawn Pests

And more!
Trust Our Family-Friendly Pest Control
Our pest control in Fort Lauderdale gives you the best of both worlds: effective pest removal and treatments that are safe for your loved ones. We offer products that are family-friendly, organic, and eco-friendly. You'll get the results you want without worrying about unnecessary chemicals being used in your home.
Image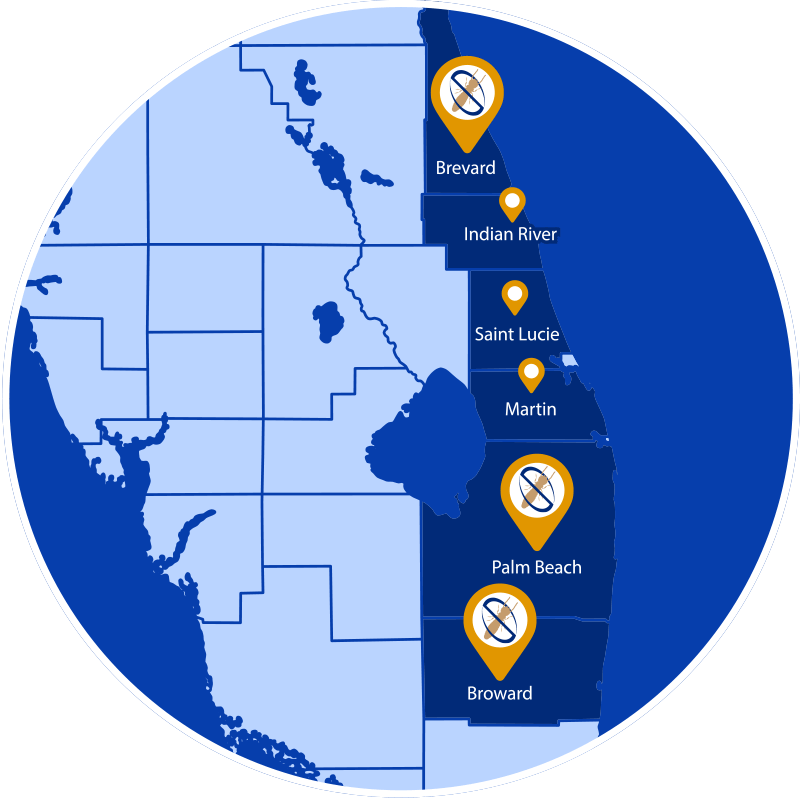 Guaranteed Pest Solutions
We've been providing pest control services in Fort Lauderdale since 1988, so we know exactly how to solve any pest problem you might be having. We want all of our customers to feel like they're making the right choice, which is why we offer a satisfaction guarantee. If you have any issues between scheduled treatments, let us know and our local exterminators will return to re-treat.
When you partner with us for pest control, you'll get:
A free inspection and quote so you know exactly what to expect.

Customized treatments based on your home's needs.

EPA-approved and organic products for safe treatment.

Flexible scheduling with same-day, next-day, and Saturday service.

Guaranteed results with free re-treatments.
Comprehensive Inspection, Treatment & Termite Control
Long before we expanded to become a full-service pest control company, Price specialized in termite pretreatment. Although our options may have expanded in the years since our business was started, we still pride ourselves on being termite experts. These insects cause a staggering $30 billion in property damage every year, so if you suspect you might be dealing with a termite problem, do not hesitate to give us a call.
How Do You Know if You Have Termite Infestation?
Common signs of a termite infestation include:
Wood shavings,
Termite droppings,
Hollow-sounding wood,
Flying termites, aka "swarmers,"
And the wings they leave behind.
Properties with old rotting wood, or that have recently experienced water damage, are particularly vulnerable to termites, so you should consider contacting Price Termite & Pest Control right away if any of this applies to your home or business.
Our Fort Lauderdale termite treatment options include:
Drywood Termite Control
Subterranean Termite Control
Termite Inspection
Termite Prevention
Pre-Construction Termite Control
Fumigation
Termite Baiting Systems
Rodent Control in Fort Lauderdale
Because rodents are nocturnal creatures, you seldom discover them in your home during normal business hours, which is exactly why we offer Same-Day, Next-Day, Saturday, and Emergency Services. When you contact Price, our licensed exterminators will get rid of rats and mice quickly and effectively to minimize the risk of disease exposure and damage caused by these destructive critters.
When you trust us for rodent control services in Fort Lauderdale, you can expect:
A detailed inspection of your home from one of our knowledgeable rat and mouse exterminators.
Use of exterior bait stations and indoor traps for safe and reliable rodent removal.
Comprehensive exclusion work to prevent rats and mice from returning.
And more!
Whether you need just a one-time service or want the added protection of recurring visits, Price Termite and Pest Control has your back.
Bed bug Exterminator in Ft. Lauderdale
Don't let bed bugs disrupt your peace of mind and detract from good sleep. Choose our expert bedbug control service in Ft. Lauderdale to get rid of these pesky pests and bring back relaxation.
What to expect from our bed bug service in Ft. Lauderdale:
Same-day inspection for prompt action.
Liquid treatments for targeted eradication.
Aerosol treatments for broader coverage.
Pesticide treatments for severe infestations.
Our bed bug treatment options are tailored to your specific needs, ensuring a hassle-free process. Our team will work with you every step of the way to provide effective solutions for long-lasting results. Rest easy knowing that our recurring bed bug treatment plans will keep these unwanted pests at bay. Contact us now for a free consultation with our bed bug exterminator in Ft. Lauderdale and say goodbye to bed bugs for good.
Call the Fort Lauderdale Pest Control Company You Can Trust
At Price Termite & Pest Control, affordability is extremely important to us. That's why on top of our reasonable rates, we offer a number of pest control specials and discounts, including savings for senior citizens and military professionals.
We also provide free, in-home consultations, so there is never a downside to giving us a call. Since 1998, Price Termite & Pest Control has been doing everything we can to deliver complete satisfaction to homeowners and business owners in Fort Lauderdale and surrounding areas, so if you are looking for a company that prioritizes the customer experience, make sure to give us a call.
Areas We Service Near Fort Lauderdale
Not in Ft. Lauderdale? View the Surrounding Areas We Service
We also service a number of cities just outside of the greater Fort Lauderdale area. See what specific local pest control services we offer in your city: