$50 Off The Best Pest Control in Fort Lauderdale
Exterminator in Fort Lauderdale
For over 20 years, Price Termite & Pest Control has been going above and beyond to provide quality pest control to local homes and businesses. When it comes to termite, bed bug, and rodent problems in Fort Lauderdale, our services include everything from exclusion and removal to treatment and extermination.
Our exterminators in Fort Lauderdale are also fully trained and equipped with nothing but the latest tools and technology, so they always deliver outstanding results. As a family-owned and operated business, we truly care about forging long-lasting relationships in our community and earning the trust of every single property owner we serve. And with a great reputation in Fort Lauderdale and beyond, there's no reason not to call Price Termite & Pest Control today.
We Offer Best-In-Class Pest Control in Fort Lauderdale
No two pests are completely alike, but at Price Termite & Pest Control, our team of exterminators has the skills and expertise needed to take care of a full range of unwanted guests. From bed bugs to rodents to spiders, you can count on work to be fast, efficient, and completely safe for your entire family or business. We proudly use non-toxic chemicals, in addition to methods that don't require spraying at all. Our goal is to get rid of pests and keep them away for good, so if you are looking for a long-term, results-oriented approach to pest control in Fort Lauderdale, you know who to call.
We offer the following pest control services throughout Broward County:
Ant Control
Roach Control
Spider Control
Bee & Wasp Control
Image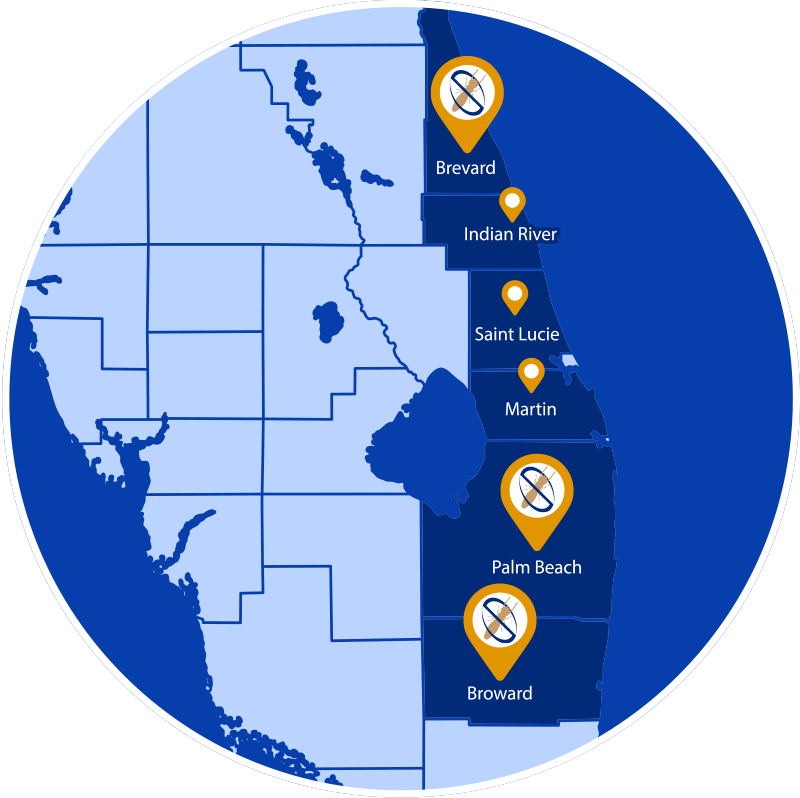 Comprehensive Inspection, Treatment & Termite Control
Long before we expanded to become a full-service pest control company, Price specialized in termite pretreatment. Although our options may have expanded in the years since our business was started, we still pride ourselves on being termite experts. These insects cause a staggering $30 billion in property damage every year, so if you suspect you might be dealing with a termite problem, do not hesitate to give us a call.
How Do You Know if You Have Termite Infestation?
Common signs of a termite infestation include:
Wood shavings,
Termite droppings,
Hollow-sounding wood,
Flying termites, aka "swarmers,"
And the wings they leave behind.
Properties with old rotting wood, or that have recently experienced water damage, are particularly vulnerable to termites, so you should consider contacting Price Termite & Pest Control right away if any of this applies to your home or business.
Our Fort Lauderdale termite treatment options include:
Drywood Termite Control
Subterranean Termite Control
Termite Inspection
Termite Prevention
Fumigation
Termite Baiting Systems
Lawn Care in Fort Lauderdale
Although many people don't think about it, pest control and landscaping go hand in hand. One of the main things that attract pests to your property is weeds they can hide in and overgrown branches they can use to get onto your structure.
At Price Termite & Pest Control, we offer landscaping services in Fort Lauderdale to not only keep your home or business looking great, but to ensure that it's pest-free, too. We promise to protect the exterior of your property, so that it's always inviting and beautiful.
Price Termite & Pest Control provides:
Fertilization
Pesticide Application
Weed Control
Whitefly Control
Grub Control
Tree & Shrub Care
Rodent Control in Palm Beach Gardens
Humans and rodents have a long track record together. Practically since we began living in settled communities, rats and mice have been living with us. That means 2 things: 1) they're good at hiding from us, and 2) they carry many diseases that we can catch. This makes effective rodent control both difficult and very important. Over the past 3 decades, we've honed our rodent removal methods to get rid of them quickly and effectively. 
Our rodent control in Palm Beach Gardens includes:
A free rodent inspection.

An individualized treatment plan for you.

Exterior rodent baiting.

Interior trapping.

Rodent exclusion.

One-time or recurring service.

 
As soon as you notice signs of rats and mice—like gnawed pantry items, fecal pellets around your home, or strange sounds in the walls or attic at night—reach out to Price so the infestation doesn't worsen. Our same-day, next-day, and Saturday service mean we will have an expert exterminator at your door to get rid of rats and mice right away.
Call the Fort Lauderdale Pest Control Company You Can Trust
At Price Termite & Pest Control, affordability is extremely important to us. That's why on top of our reasonable rates, we offer a number of pest control specials and discounts, including savings for senior citizens and military professionals.
We also provide free, in-home consultations, so there is never a downside to giving us a call. Since 1998, Price Termite & Pest Control has been doing everything we can to deliver complete satisfaction to homeowners and business owners in Fort Lauderdale and surrounding areas, so if you are looking for a company that prioritizes the customer experience, make sure to give us a call.