Looking for a Professional Exterminator in Sebastian?
Pest Control Services in Sebastian
No one understands your pest problems quite like your neighbors. At Price Termite & Pest Control, that's exactly what we are—our team of local exterminators are your neighbors, community members, and familiar faces. They're also the best of the best! Our team is rigorously trained, fully licensed, and insured and stays on top of the latest industry advances to help remove the most stubborn of pest such as:
Termites

Bed Bugs

Rodents

Mosquitoes

Lawn Pests

and more
When you partner with us for pest removal, we will:
Give you a free inspection and free quote, so there are no surprises later.
Create a custom treatment plan based on your home's unique needs.
Use EPA-approved and organic products to safely eliminate pests.
Schedule recurring visits at times that work for you, even on Saturdays.
Image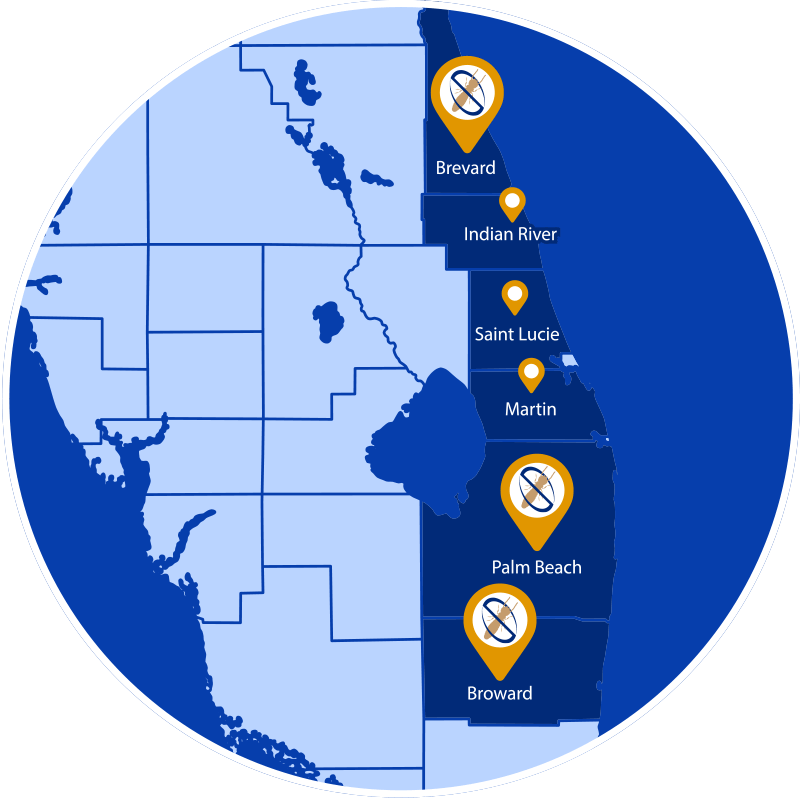 Residential Pest Control in Sebastian
If you've ever tried to get rid of bugs on your own, you know how difficult it is. There are so many treatment options in the store and they only give you short-term relief, so pests keep coming back. For long-term protection, trust our general service pest control in Sebastian. We target common household pests like spiders and roaches at their source, stopping them from re-infesting your home and giving you lasting peace of mind.
Our routine residential pest control service provides ongoing protection against:
Ants

Roaches

Spiders

Centipedes

Flies

Wasps

Hornets

Fleas

Ticks

And more!
Our Satisfaction Guarantee
Sharing your home with pests is stressful, not to mention potentially dangerous. To help you reclaim your home as soon as possible, we offer same-day pest control services in Sebastian. Just give us a call, and we'll be there as soon as possible! Our services are backed by a satisfaction guarantee, so you can feel confident that they're both fast and effective.
Rodent Exterminator in Sebastian
Don't let their small size fool you! Rats and mice can cause expensive damage to your home, as well as put your loved ones in danger. They can chew through drywall, contaminate your food, transmit dozens of diseases, and gnaw on electrical wires, which increases your risk of a house fire. That sounds scary, but you have nothing to worry about when you choose our rodent control service in Sebastian. Our exterminators will get rid of rats and mice while protecting your home from future infestations.
When you partner with us for rodent removal and control, we will:
Carefully inspect your home to learn more about the infestation.
Customize treatment based on your property's specific needs.
Strategically place bait stations around the outside of your home.
Place indoor traps, keeping them out of reach from kids and pets.
Perform exclusion repairs to seal off entry points.
Termite Exterminator in Sebastian
Nothing strikes fear in the hearts of homeowners throughout Florida like a termite infestation and not without good reason. These wood-feeding insects cause over $5 billion in damages across the United States each year. Whether you need spot treatments, whole-house solutions, or ongoing prevention, control, and monitoring, we've got your back to get rid of termites. Locally owned and operated, Price has been protecting area homes from pests, including termites, since 1988.
When you count on Price for termite services in Sebastian, we will:
Conduct a free termite inspection to assess your situation.

Provide a customized plan designed by one of our knowledgeable termite exterminators that will efficiently solve your issues.

Use effective reduced-risk termite remedies, including liquid applications, termite baiting, whole-house fumigation, and more.

Offer options for both one-time treatments and ongoing termite control.

Provide 100% guaranteed satisfaction with our recurring packages.
Price has proven techniques to not only eliminate termites from your largest investment but to prevent an infestation from progressing into a problem in the first place. Call our termite exterminators today, and stop worrying about your home becoming a food source!
Mosquito Control in Sebastian
Discover the ultimate mosquito and tick control in Sebastian, FL! Our expert team at Price offers a tailored mosquito treatment plan that is sure to keep these pesky pests at bay. Here's what you can expect from our service:
A free inspection to locate the source of your mosquito problem
Fogging and EPA-approved liquid sprays to eradicate mosquitoes
Targeted larvacide treatments in breeding areas
In2Care bucket treatment to eliminate mosquitoes efficiently
Tick control to protect you and your loved ones from harmful diseases
Don't let mosquitoes or ticks ruin your outdoor time. Trust Price to provide effective mosquito prevention and tick control in Sebastian. Say goodbye to dangerous mosquitos and ticks so you can stop hiding and swatting and enjoy your yard in peace
Bed bug Exterminator in Sebastian
Say goodbye to sleepless nights and itchy bites with our bedbug control service in Sebastian. Our experienced bed bug exterminators know just how to get rid of bed bugs efficiently and effectively. Here's what you can expect from our service:
Same-day bed bug inspection to quickly identify the problem
Liquid treatments that target bed bugs at the source
Aerosol treatments for hard-to-reach areas
Pesticide treatments for large infestations
At Price, we understand how disruptive bed bugs can be. That's why we offer personalized treatment plans based on your specific situation and needs. Our goal is to return your peace of mind quickly and thoroughly with respect to your home and schedule.
Our bed bug treatment options include mattress covers, climb-up interceptors, and more to ensure every step is taken to prevent their return. Don't let bed bugs keep you up at night any longer. Contact our bed bug exterminator in Sebastian today and sleep easy knowing your home is bed bug-free.