$50 Off The Best Pest Control in West Palm Beach!
Pest Control in West Palm Beach
If you are looking for a reliable, locally owned and operated exterminator in West Palm Beach, then you've come to the right place. At Price Termite & Pest Control, we're backed by over 30 years of experience, allowing us to identify problems quickly and present comprehensive solutions for a range of needs.
We are constantly updating our tools and technology and are familiar with all the latest, industry-leading pest control and treatment methods. Our seasoned veterans go above and beyond for everyone we serve, which is why we continue to have a great reputation in West Palm Beach and surrounding areas. Call today to schedule an in-home consultation, and discover the Price Termite & Pest Control difference for yourself.
West Palm Beach Pest Control Services
Living with pests can be a nightmare, which is why getting rid of them shouldn't be any more of a hassle than it has to be. Price Termite & Pest Control is a full-service West Palm Beach company, meaning we are equipped with the cutting-edge products needed to take care of virtually any kind of infestation. Whether you need full-on extermination or exclusion options to help keep pests away from your property for good, our pest control and treatment services can be adjusted to fit properties big and small. We also strive to find safe, non-toxic solutions that will not put your pets, children, or anyone else in your family at risk. And with rates that are affordable for all budgets, there's no reason not to make Price Termite & Pest Control your go-to West Palm Beach exterminators. Call Price Termite & Pest Control today for:
Ant Control
Bed Bug Control
Roach Control
Rodent Control
Mosquito Control
Flea & Tick Control
Image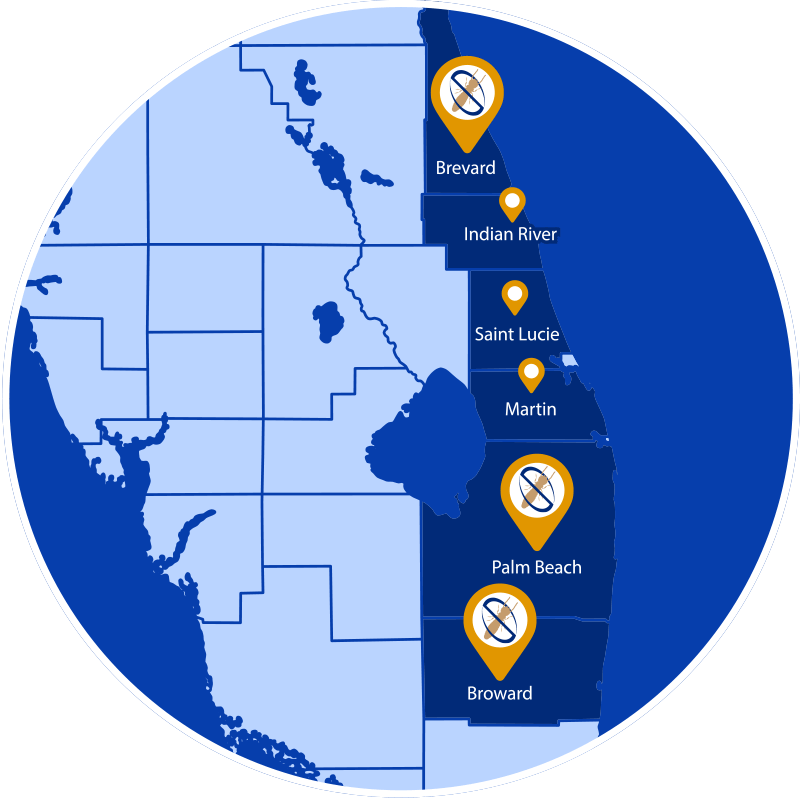 The Importance of Termite Control in West Palm Beach
Did you know that termites cause approximately $30 billion in property damage to American properties every year? That's right—as in billion with a capital B! Some people assume that termites only attack structures that have experienced water damage.
However, while subterranean termites are drawn to areas with excess moisture, it is important to remember there are drywood termites as well, which may go after wood even if it isn't old and rotting. Watch out for signs of an infestation, such as wood shavings, droppings or "frass," hollow-sounding wood, flying termites known as "swarmers," as well as wings that swarmers have left behind. And if you have noticed evidence of termites in your home or business, make sure to call a professional right away.
Price Termite & Pest Control is proud to provide:
Drywood Termite Control
Subterranean Termite Control
Termite Inspections
Termite Prevention
Pre-Construction Termite Control
Fumigation
Termite Baiting Systems
Rodent Control in West Palm Beach
Few pests can negatively impact your family's health and wellbeing quite like rodents. Rats and mice are famous for their ability to spread disease. But they also inflict painful, easily infected bites, and even cause electrical fires! Knowing that, why would you settle for anything less than the very best rodent control in West Palm Beach? Here at Price Termite & Pest Control, you can count on receiving the level of service that you deserve. A Price rodent exterminator is friendly, experienced, and dependable, and will give you back a mouse and rat-free home every time. 
When you partner with Price for mouse and rat removal, you'll receive: 
A comprehensive rodent inspection

from a highly-trained rodent exterminator. 

Personalized mouse and rat control services

that address your unique needs. 

Outdoor rodent bait stations

to prevent infestations before they begin. 

Strategic placement of rodent traps

inside your home to resolve an existing infestation. 

Rodent exclusion treatments

to prevent them from ever coming back. 

One-time or recurring services

depending on your needs and preferences.

And much more! 
Bed Bug Exterminator in West Palm Beach
Bed bugs can be a real nightmare, disrupting your sleep and leaving itchy bites on your skin. As experts in bed bug extermination in West Palm Beach, we have the know-how and the tools to help you get rid of these pesky pests for good. Here's how we can help:
Same-day bed bug inspection: Our bed bug exterminators will come to your home and inspect the affected areas the same day you call us. We know how urgent the situation can be, so we won't make you wait.
Liquid treatments: Our liquid spot treatments are designed to target bed bugs where they hide, ensuring that they are fully eradicated.
Aerosol treatments: For larger infestations, we use aerosol treatments to get rid of bed bugs in hard-to-reach areas.
Pesticide treatments: We also offer fumigation for particularly stubborn infestations.
With our bed bug control service, you can rest easy knowing that our expert exterminators have your back. We'll work with you to create a personalized treatment plan that fits your needs and budget. Plus, we offer recurring bed bug treatments to ensure that bed bugs stay gone for good.
Why Choose Us?
Our team of bed bug exterminators in West Palm Beach has decades of experience in the field. We know what it takes to get rid of bed bugs and keep them from coming back. Here are some of the benefits you can expect from our service:
Free, no-obligation quote: We offer free quotes on all our services, so you know exactly what you're getting into from the start.
Highly trained exterminators: Our exterminators are trained to the highest standards and use only the most effective methods to get rid of bed bugs.
Customized treatment plans: We take your unique situation into account when creating a treatment plan, ensuring that we address the root cause of your bed bug problem.
Outstanding customer service: We're committed to providing exceptional customer service, so you can expect fast, friendly, and professional service from our team.
Create a Bed Bug-Free Home Today
Don't let bed bugs disrupt your life any longer. Contact us today to schedule your same-day bed bug inspection and take the first step towards a bed bug-free home.
Mosquito Control in West Palm Beach
Are you tired of your outdoor time being interrupted by blood-sucking pests? With mosquito control in West Palm Beach from Price, you can reclaim your yard and keep your family safe from tick-borne illnesses. Here are some reasons why you should choose us for your mosquito and tick control needs:
Free inspection: We'll assess your yard to identify any breeding areas and hiding spots for these pests.
Fogging: Our EPA-approved fogging treatments target mosquitoes and ticks where they live and breed.
EPA-approved liquid sprays: Our liquid sprays effectively reduce populations of these pesky creatures.
Larvicides in targeted areas: We don't just treat adult pests - we also target breeding areas to prevent future generations.
Mosquito traps: Our In2Care bucket treatment provides an efficient and effective way to reduce mosquitoes in your yard.
West Palm Beach's tropical climate is a breeding ground for mosquitoes and ticks, making seasonal mosquito control a must. Our licensed and highly skilled exterminators know exactly how to combat these pests and keep your yard enjoyable year-round. Mosquito prevention is key to avoiding dangerous diseases like West Nile Virus and Lyme disease, and our treatments can drastically reduce the risk of transmission.
Don't let mosquitoes and ticks ruin your time outside. Choose Price for effective mosquito treatment and tick control in West Palm Beach. Our fogging treatments will reduce the population of these pests almost immediately, and our In2Care mosquito traps will provide long-term relief. Let us help you enjoy your yard without the annoyance and danger of these bothersome parasites.
Schedule Termite or Pest Control in West Palm Beach Today
If your commercial or residential property is dealing with a pest, termite, or landscaping issue, Price Termite & Pest Control will always be there for you. Feel free to call us anytime for a free estimate, and don't forget to ask us about available pest control coupons and special offers. With roots going back to 1998, you can trust our friendly and capable technicians to provide the kind of careful, expert, and efficient pest control service that your West Palm Beach home or business deserves.
Areas We Service Near West Palm Beach
Not in West Palm Beach? View the Surrounding Areas We Service
Did you know we service a large number of cities just outside of the greater West Palm Beach area? See what specific local pest control services we offer in your city: