Save Up To $50 On The Best Pest Control Services in Palm Springs!
Pest Control in Palm Springs
Looking for local pest control services in Palm Springs, FL? Look no further than Price Termite & Pest Control. With over 35 of experience, we are the experts you can trust. Here are the top pest control services we offer:
Residential Pest Control: Say goodbye to unwanted pests in your home. Our exterminators will create a customized treatment plan to eliminate pests and keep your family safe.
Commercial Pest Control: Protect your business from the damage and reputation loss caused by pests. We offer effective solutions tailored to the specific needs of your commercial property.
Rodent Control: Don't let rodents invade your space. Our team will identify and eliminate any rodent infestations, preventing further damage to your property.
Termite Control: Termites can cause significant structural damage to your home or business. Our termite control services will quickly eliminate these destructive pests and safeguard your property.
Bed Bug Control: These tiny pests can quickly become a nightmare. Our bed bug treatments are efficient and thorough, ensuring a bed bug-free environment.
Mosquito and Tick Control: Enjoy your outdoor space without the annoyance of mosquitoes and ticks. Our treatments will effectively reduce their population, allowing you to fully enjoy your backyard.
And More: Whatever pest concerns you may have, we have the expertise and solutions to address them.
Why choose us? Not only do we offer same-day service, family-friendly treatments, and a 100% satisfaction guarantee, but our team of professionals is dedicated to providing excellent and friendly customer service. Trust the experts at Price Termite & Pest Control to handle all your pest control needs in greater West Palm Beach, including here in Palm Springs. Contact us today and experience the Price difference.
Image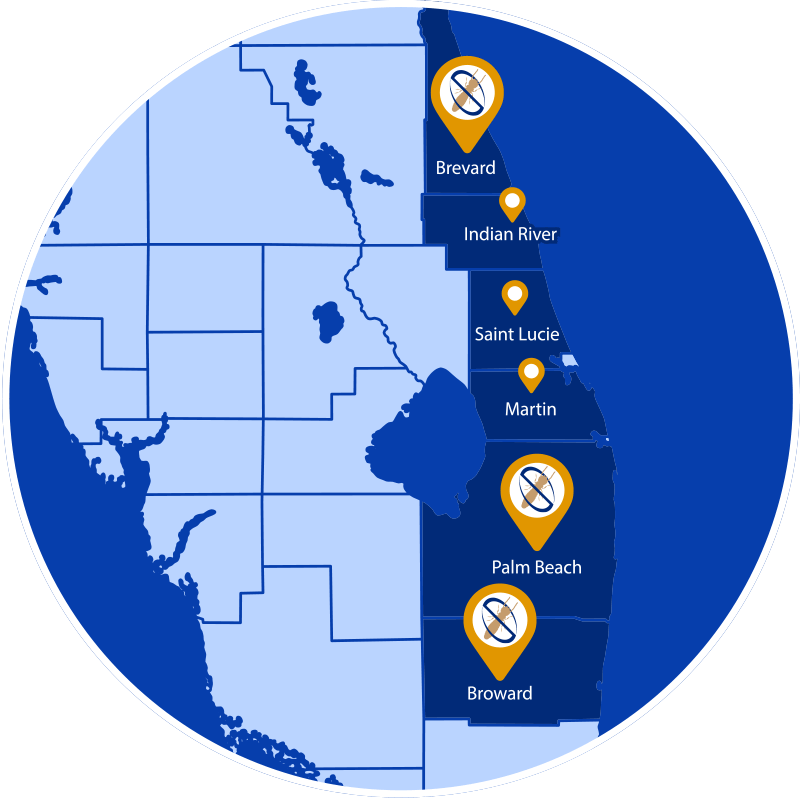 Residential Pest Control in Palm Springs
In sunny Palm Springs, Florida, our team at Price understands that the diverse ecosystem brings along some less desirable guests. But don't worry, we've got you covered with our same-day residential pest control services:
Ants: Those pesky little invaders won't stand a chance against our expert exterminators. Say goodbye to those kitchen countertops trails.
Cockroaches: We're your go-to experts for cockroach control (except German cockroaches). With our limited guarantee, you can trust that your home will be roach-free in no time.
Spiders: From harmless to venomous, we know just how to handle all types of spiders. Let us take care of those eight-legged intruders for you.
Silverfish: These creepy crawlers love to infest your pantry and chew through your favorite books. Don't let them take over your home. Call us for thorough silverfish extermination.
Fleas and ticks: Protect your family and pets from these annoying parasites. Our organic pest control program provides a safe and effective solution to eliminate fleas and ticks from your home.
Hornets and wasps: With our expert exterminators, hornet nests and wasp hives will be a thing of the past. Rest easy knowing your family can enjoy your outdoor space without the threat of stings.
Centipedes: These quick and elusive creatures can be startling to encounter. Our general pest control services include effective centipede removal, so you can sleep peacefully at night.
And much more! We tackle a wide range of common household pests with precision and care. With our thorough pest inspection, we ensure no pest goes unnoticed.
At Price Termite & Pest Control, we understand the importance of organic pest control, especially when it comes to the safety of your family and pets. Our expert exterminators have been perfecting these techniques since 1988, gaining valuable knowledge and experience specific to treating Florida's unique pest challenges.
Choose Price for your recurring pest control needs and enjoy the peace of mind that comes with our limited guarantee. Our locally-owned and operated company is proud to serve Palm Springs, providing the highest quality service.
Commercial Pest Control in Palm Springs
Keeping your Florida business in ship shape often means including commercial pest control in your business plan. Professional pest control protects your employees and customers from negative pest-related health outcomes and safeguards your reputation in the eyes of customers and the local community. Our same-day commercial pest control in Palm Springs is designed to cater to a range of commercial properties, including:
Office buildings: Our experts are experienced in treating and preventing pest infestations in office spaces, ensuring a clean and pest-free environment for your employees and clients.
Doctor's offices: We understand the importance of maintaining a hygienic space for healthcare facilities. Our general pest control services can help keep pests at bay and create a safe atmosphere for patients and staff.
Warehouses: Infestations in warehouses can lead to damage of stored goods. Our pest inspection and recurring pest control services help protect your inventory and maintain a pest-free storage space.
Recycling plants: Pests can pose a threat to the smooth operation of recycling plants. Our exterminators are well-equipped to get rid of common commercial pests, ensuring a pest-free environment for your operations.
Houses of worship: Create a welcoming and pest-free environment for worshippers with our commercial pest control services. We know the importance of maintaining a clean and safe space for religious gatherings.
Stores: Don't let pests deter customers from visiting your store. Our same-day commercial pest control services can help eliminate pests and protect your business reputation.
Banks: Protect your financial institution from the negative impact of pests. Our services can help prevent infestations and maintain a clean and professional environment for staff and customers.
Restaurants: Pests in restaurants can harm your reputation and pose health risks to customers. Our pest control services are tailored to the unique needs of the food service industry, ensuring a pest-free dining experience.
Convenience stores: Keep pests away from your inventory and create a pleasant shopping environment for your customers. Our recurring pest control services keep pests at bay, protecting your business and products.
At Price Termite & Pest Control, we understand the importance of quick and efficient service. That's why we offer same-day service for commercial pest control in Palm Springs. Our experienced exterminators will assess and address your pest control needs promptly, providing effective solutions to protect your business. Contact us today to schedule a pest inspection and take the necessary steps to safeguard your enterprise.
Termite Exterminator in Palm Springs
Are termites invading your home in Palm Springs, FL? Don't worry, we've got you covered. As the top termite exterminator in Palm Springs, our effective termite control service will rid your home of these destructive pests. Here's what we offer:
Effective termite treatments: With over 35 years of experience, our expert exterminators know exactly how to eliminate termites from your home. We use safe and proven techniques to ensure a thorough eradication.
Ongoing termite control: We don't just get rid of termites once, we provide ongoing protection to prevent future infestations. Our recurring services will keep your home termite-free for the long term.
Monitoring and prevention: Our team will regularly monitor your property to catch any signs of termite activity early on. We'll implement preventive measures to stop termites from returning and causing damage.
Free termite inspections: Worried about termites but not sure if you have an infestation? We offer free termite inspections by our knowledgeable technicians. They will carefully check your home, inside and out, for any signs of termites.
Don't let termites destroy your investment. Trust our experienced team to provide reliable termite control service in Palm Springs. Contact us today to schedule your free inspection and take the first step towards a termite-free home.
Bed Bug Exterminator in Palm Springs
Sleep soundly and bed bug-free with Price's exceptional bed bug control service in Palm Springs. Our team of highly-trained bed bug exterminators is here to help you get rid of these pesky pests and restore your peace of mind. Don't let bed bugs disrupt your sleep any longer – choose Price Termite & Pest Control for effective and efficient bed bug treatment in Palm Springs.
Why choose Price for your bed bug control needs? Here's what sets us apart from the rest:
Same-day bed bug inspections: No waiting around and losing sleep over bed bug worries. We offer prompt inspections to identify the extent of the infestation and tailor a treatment plan specifically for you.
Liquid treatments: Our skilled technicians utilize advanced liquid spot treatments that target bed bugs at their source, ensuring effective elimination and preventing future outbreaks.
Aerosol treatments: For more localized infestations, our aerosol treatments provide targeted control, reaching deep into cracks and crevices where bed bugs hide.
Pesticide treatments: In cases of larger infestations, we offer safe and efficient fumigation services that penetrate even the toughest hiding spots, eradicating bed bugs from your home completely.
When you choose Price for your bed bug treatment, you can expect personalized and professional service from start to finish. Our experienced bed bug exterminators will guide you through the entire process, providing helpful insights and recommendations to prevent any future infestations.
Don't let bed bugs rob you of a good night's sleep. Trust our bed bug control service in Palm Springs to eliminate these pests and restore tranquility to your home. Contact us today for a free inspection and take the first step towards a bed bug-free life.
Rodent Exterminator in Palm Springs
Are you tired of hearing strange noises in your walls at night? Worried about nibble marks on your food? It's time to take control of your rodent problem in Palm Springs, FL. Our expert rodent control service is here to help.
Here's what we offer to ensure a rodent-free home:
Free Rodent Inspection: Our highly trained rodent exterminator in Palm Springs will conduct a careful inspection of your home to identify any signs of infestation.
Exterior Rodent Bait Boxes: We strategically place bait stations outside your home, where rats and mice can easily find them, but pets and children can't access them.
Interior Trapping: Our skilled team will set up traps inside your home, targeting areas where rodents are most likely to be active.
Structural Modifications: We'll repair holes in your home's siding, fill gaps around utility pipes, seal cracks in your foundation, and install wire mesh over vents to prevent rodents from entering.
Rodent Exclusion: Our proactive approach includes trimming trees and bushes away from your home, and creating a barrier that keeps rodents out.
Recurring or One-Time Service: Choose the option that works best for you - ongoing rodent control service or a one-time removal.
Varmints Included: Our rodent control service doesn't stop at rats and mice. We can also handle other pesky critters, excluding groundhogs.
Don't let rodents take over your home. Take action now and get rid of these pests for good. Our rodent control service in Palm Springs, FL is here to make your life rodent-free. Contact us today for a free inspection and a personalized treatment plan.
Tick and Mosquito Control in Palm Springs
Discover the ultimate mosquito and tick control in Palm Springs, FL - your ticket to a pest-free and worry-free outdoor experience. Our expert team at Price offers a comprehensive and effective solution tailored to your individual needs. Here's what you can expect from our top-notch mosquito services:
Free Inspection: Our skilled technicians will conduct a thorough inspection to identify breeding and hiding spots of mosquitoes and ticks, ensuring a targeted and efficient treatment plan.
Fogging: We utilize EPA-approved liquid sprays, which effectively eliminate mosquitoes in your yard. Say goodbye to annoying swatting sessions and hello to serene evenings outdoors.
Larvicides in Targeted Areas: Combating mosquitoes at their source is crucial. Our team strategically applies larvicides in breeding areas, preventing the next generation of mosquitoes from ever getting the chance to bite.
In2Care Bucket Treatment: Experience the power of our innovative mosquito traps. These discreet buckets are strategically placed throughout your yard, minimizing mosquito populations with minimal effort on your part.
Tick Control: Protect yourself and your loved ones from harmful tick-borne diseases with our powerful tick control methods. We proactively prevent infestations in your home and yard, allowing you to enjoy your outdoor space with peace of mind.
Don't let mosquitoes and ticks dictate your outdoor activities. Experience the freedom and comfort of mosquito and tick control in Palm Springs. Reach out to us today and reclaim your backyard oasis.