Save $50 on Pest Control in Deerfield Beach
Pest Control in Deerfield Beach
Accidentally inviting pests into your home is easy. Small things like overripe fruit on the counter or pet food on the floor can attract all kinds of pests. If you've found creepy crawlies in your home, don't panic! Our pest control in Deerfield Beach is here to help. With over three decades of experience from pest control in greater Fort Lauderdale to here in Deerfield, outstanding customer service, and organic treatment options, there's no better option than Price.
Our pest control services protect your home from:
Ants

Roaches

Spiders

Centipedes

Hornets

Flies

Wasps

Fleas and ticks

And more!
Image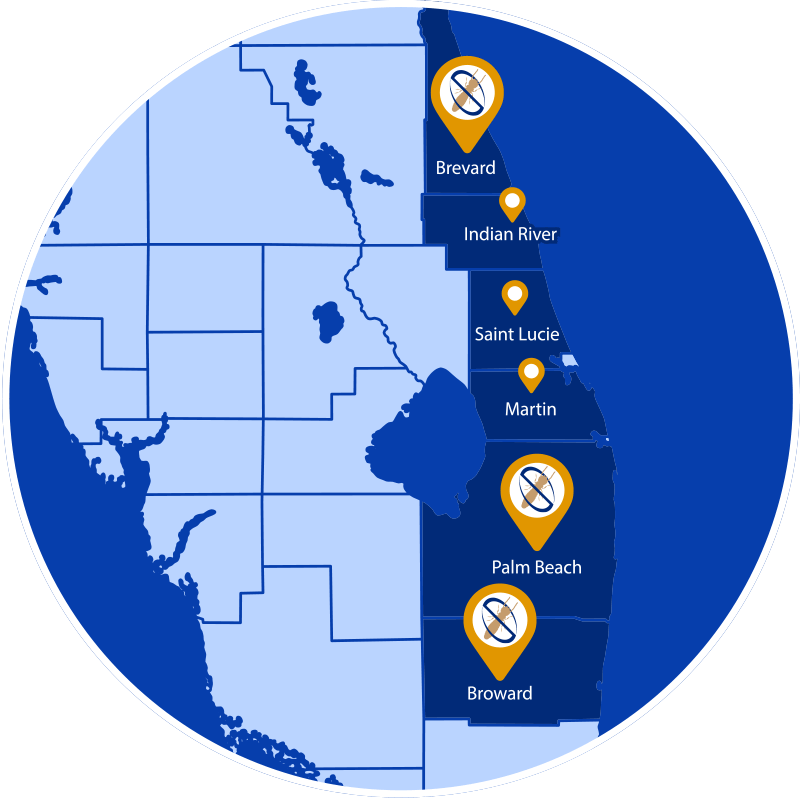 Trust Your Local Exterminators
As a locally-owned business, we understand how difficult it is to get rid of bugs because we've been there. Ants, roaches, spiders—we've experienced them all. To help you get the relief you deserve, trust our pest control in Deerfield Beach. Our team is the best of the best, and we mean it! Our experts complete thorough training, are fully licensed and insured, and always go the extra mile.
When you choose our pest removal services, we will:
Inspect your home to determine how severe the infestation is.
Customize our approach based on our findings and any concerns you have.
Eliminate pests using EPA-approved and organic products.
Treat quickly and effectively, giving you results as soon as possible.
Same-Day Service with Guaranteed Results
Finding pests in your home is frustrating enough, treating them should be easy. With Price Termite & Pest Control of Margate, you don't have to worry about a thing! We strive to make everything as hassle-free as possible by providing same-day service, as well as next-day and Saturday appointments. We'll even re-treat for free if pests persist between treatments!
Termite Exterminator in Deerfield Beach
In South Florida, it's not a matter of if you will find a termite infestation in your home but when and how severe it will be. Because termites work quietly behind the scenes, you often don't know anything is wrong until they have caused thousands of dollars in damage to your home, including structural supports. Since 1988, Price Termite and Pest has been protecting homes from the destruction caused by termites and other pests. Because we're locally owned and operated, we know the problems you face and how to solve them.
When you trust Price for termite control services in Deerfield Beach, you can expect:
A free termite inspection to determine the extent of your infestation.
A tailored plan specifically designed to get rid of termites in your home.
Use of EPA-approved reduced-risk termite treatments, including liquid applications, termite baiting, whole-house fumigation, and more.
The choice between one-time treatments and ongoing termite control depending on your needs.
100% guaranteed satisfaction with our recurring packages.
Whether you need spot treatments, whole-house solutions, or ongoing prevention, control, and monitoring, our highly trained termite exterminators know how to protect your largest asset. Contact Price today to prevent termites from eating your home and everything in it.
Mosquito & Tick Control in Deerfield Beach
Enjoying sunny south-central Florida outdoors should never be spoiled by pesky mosquitoes and harmful ticks. Our mosquito and tick control service offers a comprehensive solution to keep your yard free from these pests. Here's what we offer:
Free inspection to locate breeding and hiding spots
Fogging and EPA-approved liquid sprays for effective mosquito treatment
Larvicides targeted at breeding areas for long-term mosquito prevention
In2Care bucket treatment, a low-input and efficient mosquito control method
Tick control to protect you and your loved ones from harmful diseases
With our proven techniques honed over 30+ years of pest control experience, we'll create a unique treatment plan tailored to your individual situation. Our skilled exterminators will strategically hit the areas where these pests reside, drastically reducing their number in your yard.
Don't let mosquitoes and ticks ruin your outdoor time. Trust our mosquito control in Deerfield Beach to keep you and your furry friends safe and protected from mosquito-borne illnesses.
Rodent Exterminator in Deerfield Beach
Welcome to Deerfield Beach, FL, where rodents don't stand a chance! Our rodent control service is the best in the area, and we're here to help you get rid of those pesky rats, mice, and other varmints. Here are some of the benefits of choosing our rodent extermination service in Deerfield Beach:
Free rodent inspection by one of our highly trained technicians
Exterior rodent bait boxes to prevent infestations from the outside
Interior trapping to eliminate any existing rodents
Structural modifications to exclude rodents from entering your home
Ongoing servicing to keep your home rodent-free
No groundhogs, but we do handle all other varmints
We understand the importance of rodent removal and prevention, and our team of experts is here to help. Don't let rodents take over your home – trust our rodent control service to keep them at bay. With our recurring or one-time service options, you can rest assured that your home will be free from rodents. Contact us today to learn more about our rodent exclusion techniques and get started on your rodent control service.
Bed bug Exterminator in Deerfield Beach
Don't let bed bugs disrupt your peace of mind and ruin your sleep. Get rid of bed bugs with our expert bedbug control service in Deerfield Beach. Our bed bug exterminator will provide you with a same-day inspection and individualized treatment plan using liquid, aerosol, and pesticide treatments. Here's what you can expect:
Same-day bed bug inspection
Liquid spot treatments
Aerosol treatment
Pesticide treatment
Our highly-trained bed bug exterminator will work closely with you to ensure a thorough solution to your bed bug problem. With our recurring bed bug treatment options, we guarantee that bed bugs will be fully removed and stay gone for the long run. Don't let bed bugs disrupt your sleep any longer. Contact us now to schedule your free consultation and get back to peaceful nights.