Save Up to $50 on the Best Pest Control Services in Lake Worth
Pest Control in Lake Worth
Are you tired of dealing with pesky bugs in Lake Worth, FL? Look no further than Price Termite & Pest Control, your local pest control experts with over 35 years of experience. We offer a wide range of pest control services to meet all your needs. Here's what we can do for you:
Residential Pest Control: Say goodbye to unwanted guests in your home. Our expert exterminators will eliminate pests and protect your property.
Commercial Pest Control: Keep your business pest-free and ensure a safe environment for your employees and customers.
Rodent Control: Don't let rodents take over your space. We'll remove them and help prevent future infestations.
Termite Control: Protect your biggest investment with our effective termite treatments. Don't let these destructive pests ruin your home.
Bed Bug Control: Sleep tight and bed bug-free with our comprehensive bed bug treatments. We'll eliminate these nuisance pests and give you peace of mind.
Mosquito and Tick Control: Enjoy your outdoor space without the annoyance of mosquitoes and ticks. Our treatments will keep these bloodsuckers at bay.
And more: We offer a range of additional pest control services to target any invaders that may be causing you trouble.
When you choose Price Termite & Pest Control, you'll experience the difference that comes with our local, family-owned and operated business serving the greater West Palm Beach area, including here in Lake Worth since 1988. We provide same-day service, family-friendly treatments, and a 100% satisfaction guarantee. Plus, we offer discounts for multiple services to make pest control more affordable for you.
Image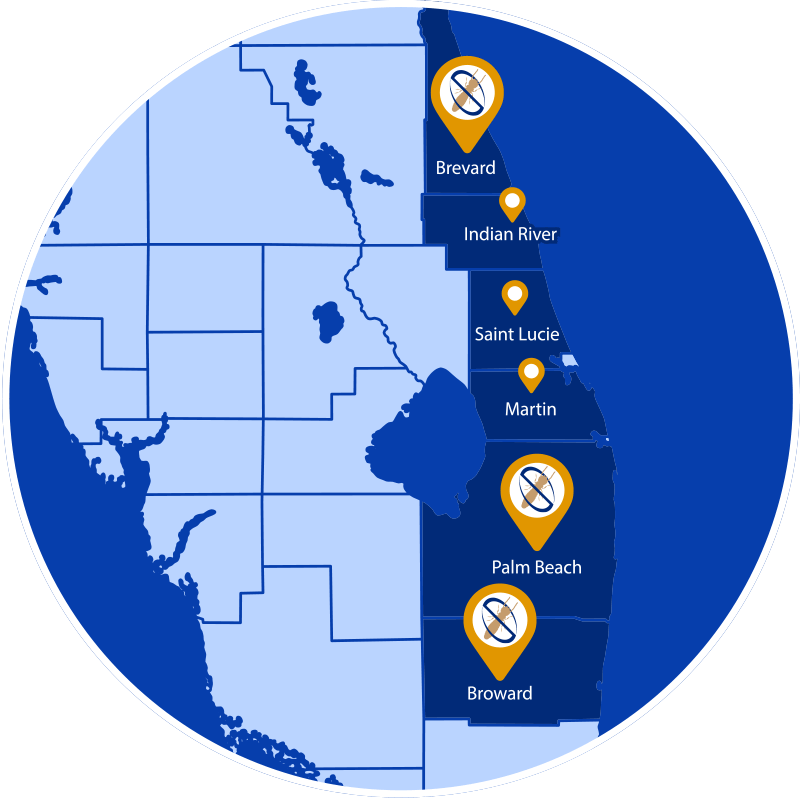 Residential Pest Control Services in Lake Worth
Is your home being invaded by unwanted pests? We understand the frustration and fear that comes with dealing with common household pests. That's why Price Termite & Pest Control is here to provide you with top-notch pest control services in Lake Worth that will leave your home pest-free, guaranteed.
Our team of professional exterminators treats:
Ants
Cockroaches (except German)
Spiders
Silverfish
Fleas and ticks
Hornets
Wasps
Centipedes
And much more! Our general pest control services cover a wide range of pests, so no matter what you're dealing with, we can help. When you choose Price Termite & Pest Control, you can trust that we will provide you with exceptional service and a 100% guarantee. We're not just here to get rid of pests; we're here to give you back your home and peace of mind.
Commercial Pest Control Services in Lake Worth
In Lake Worth, we offer same-day commercial pest control to a wide range of businesses. Our services are tailored to meet the specific needs of various properties, including:
Office buildings: Keep your workspace free from pests that can disrupt productivity and pose health risks to employees.
Doctor's offices: Protect the well-being of patients and staff by implementing general pest control measures.
Warehouses: Prevent pests from infesting stored goods and damaging inventory.
Recycling plants: Maintain a clean and hygienic environment to ensure the safety of workers and visitors.
Houses of worship: Create a pest-free space for congregants to worship without distraction or discomfort.
Stores: Deter pests that can contaminate products and drive away customers.
Banks: Safeguard sensitive financial operations by eliminating any potential pest threats.
Restaurants: Ensure a clean and sanitary dining experience, free from pests that could harm your reputation.
Convenience stores: Prevent pests from damaging goods and deterring customers from frequenting your establishment.
When you choose us, our experienced exterminators will conduct a thorough pest inspection to identify and get rid of common commercial pests. By protecting your business from pests, you'll create a positive environment that not only attracts customers but also helps to maintain a reputable image within the community. Don't let pests deter customers and harm your bottom line – trust our reliable and recurring pest control services to protect your business.
Termite Exterminator in Lake Worth
Are termites causing havoc in your home? Look no further than our top-notch termite exterminators in Lake Worth. With over 35 years of experience, we are the experts you can trust to get rid of termites and protect your biggest investment.
Our termite control service in Lake Worth offers a range of effective treatments, including fumigation and termite baiting. Whether you need a one-time treatment or recurring service, we have the solution for you.
Here's what you can expect when you choose our termite control service:
Free Termite Inspection: Our expert technicians will conduct a thorough inspection of your property, checking for telltale signs of termite infestation. We leave no stone unturned, examining every nook and cranny, from the base of your home to the crawlspace.
Custom Treatment Plan: Based on the species and extent of the infestation, our technicians will recommend the most suitable treatment plan for your situation. Whether it's fumigation or termite baiting, we have the expertise to eliminate those pesky pests.
Ongoing Protection: Our termite control service doesn't stop at treatment. We offer ongoing monitoring and prevention to ensure those termites stay far away from your home. With our proactive approach, you can rest easy knowing your property is safeguarded.
100% Satisfaction Guarantee: We stand behind the quality of our service. If you're not satisfied, we'll work with you to make it right. Your peace of mind is our priority.
Don't let termites chew away at your home. Contact us today to schedule your free termite inspection. Trust the experts with over 35 years of experience!
Bed Bug Exterminator in Lake Worth
Are you tired of restless nights, plagued by itchy bites and the constant worry of bed bugs? At Price Termite & Pest Control, we understand the impact that these parasitic pests can have on your peace of mind and quality of sleep. That's why we've honed our bed bug control services to efficiently and effectively get rid of these troublesome creatures, so you can finally get back to real rest in your own bed.
Our bed bug control in Lake Worth includes:
Same-day bed bug inspection: Our expert exterminators will quickly identify and assess the severity of your bed bug infestation.
Liquid treatments: Our targeted liquid spot treatments will effectively eliminate those bed bugs, leaving you with a bug-free environment.
Aerosol treatments: For those hard-to-reach areas, our aerosol treatments will ensure that every nook and cranny is bug-free.
Pesticide treatments: In cases of large infestations, our powerful pesticide treatments will get rid of those bed bugs once and for all.
Don't let bed bugs disrupt your sleep and peace of mind any longer. Contact us today to schedule your free inspection and take the first step towards a bed bug-free life. 
Rodent Exterminator in Lake Worth
If you're tired of dealing with rodents, we've got the solution for you. Our rodent control service in Lake Worth is specifically designed to keep those mice and rats away from your home for good. Here's what you can expect:
Free Rodent Inspection: Our highly trained rodent exterminators will carefully inspect your home to identify any signs of infestation.
Exterior Rodent Bait Boxes: We'll strategically place bait stations outside your home, where rodents can easily find them but pets and children can't.
Interior Trapping: Our skilled team will set up traps inside your home to catch any rats or mice that have found their way in.
Structural Modifications: We'll make necessary repairs, like filling gaps and sealing cracks, to prevent rodents from entering your home.
Rodent Exclusion: With wire mesh and other techniques, we'll ensure that rats, mice, and other critters stay outside where they belong.
Recurring or One-Time Service: Whether you need ongoing rodent control or just a one-time removal, we've got you covered.
No Groundhogs: While we tackle all kinds of rodents, our service doesn't include groundhogs.
Living in beautiful Lake Worth should be a joy, not a constant battle against rodents. Let us take care of the problem for you. Our rodent control service in Lake Worth is effective, reliable, and will give you the peace of mind you deserve. Say goodbye to rats, mice, and varmints once and for all. Contact us today for a rodent-free home!
Tick and Mosquito Control in Lake Worth
Don't let mosquitoes and ticks rob you of relaxing outdoor time. Take advantage of our mosquito and tick control expertise today, and experience the Price difference for yourself. Contact us now for a free inspection, and let us create a personalized, effective treatment plan tailored to your individual situation. Your outdoor oasis awaits!
When you choose Price Termite & Pest Control for mosquito and tick control, you can expect:
A free inspection to identify the breeding and hiding spots of these pests
A unique treatment plan designed specifically for your situation
An effective treatment that drastically reduces mosquitoes and ticks in your yard
Targeted treatments that focus on the areas where these pests reside
Fogging with EPA-approved liquid sprays for maximum effectiveness
Larvicides applied to breeding areas to eliminate mosquito larvae
In2Care mosquito traps, a low-input and highly efficient solution
Protection from serious diseases transmitted by ticks, such as Lyme Disease
Prevention of acute infestations in your home or yard
A hassle-free way to enjoy your yard without the annoyance of mosquitoes and ticks
At Price Termite & Pest Control, we understand the importance of your outdoor time, and we are dedicated to providing you with a mosquito and tick-free environment. Our licensed and highly skilled exterminators will assess your lawn and determine the best plan of action, ensuring safe and strategic treatments.