Save $50 on Pest Control Services in Wellington
Pest Control in Wellington
It's easy for pests to find their way into your home. They can wiggle through cracks in the foundation, broken window screens, and under doors. Unfortunately, it's not as easy to eliminate pests, especially if you're using ineffective DIY methods. For treatment that really works, trust our pest control in Wellington.
Local Pest Removal Experts Since 1988
Price Termite & Pest Control is your one-stop shop for all your pest control needs. We've been servicing the greater Wellington area since 1988, so we know how to quickly get rid of local bugs, rodents, and other unwanted critters. 
We cover a variety of pests, including:
Ants

Roaches

Spiders

Centipedes

Hornets

Flies

Wasps

Fleas

Ticks

And more!
Image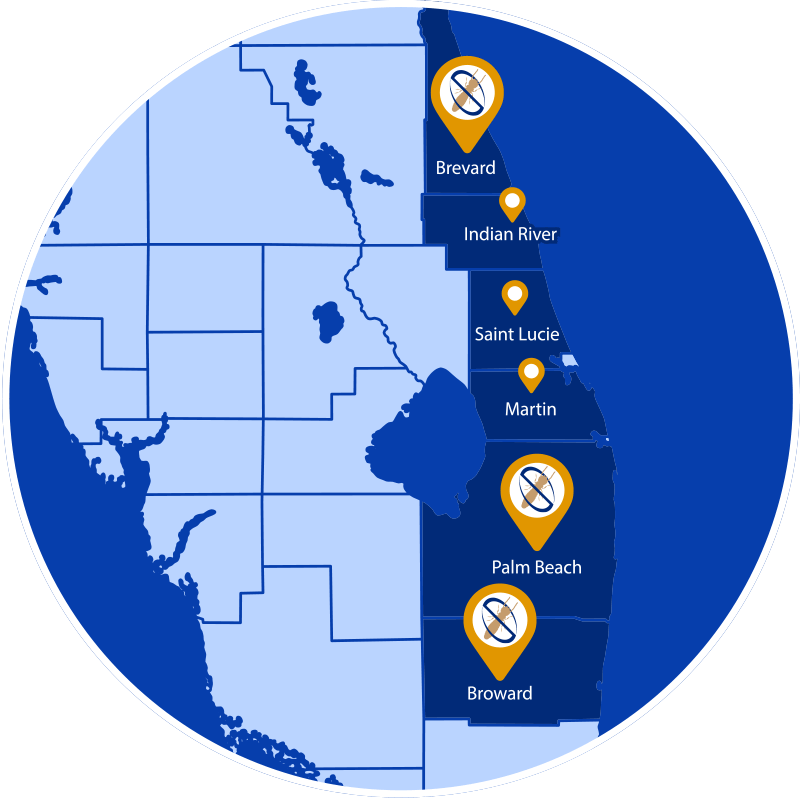 Comprehensive Pest Services
Don't settle for treatments that won't take care of all your pest needs. Instead, get help from the team at Price. Our pest control in Wellington includes benefits such as:
A free inspection and quote.

Custom treatment based on your home's needs.

EPA-approved and organic products.

Same-day, next-day, and Saturday service.

Guaranteed results.
Hassle-Free Pest Control
Pest control doesn't have to be stressful! We're proud to offer hassle-free services to all our neighbors in Florida. Our local exterminators are the best of the best—they're fully licensed, go through rigorous training, and know how to deal with West Palm Beach pests. There's nothing our pest control in Wellington can't handle.
Termite Control in Wellington
Termites are a homeowner's worst nightmare. They never sleep, giving them plenty of time to wreak havoc on your home and cause thousands of dollars in damages. Instead of paying out-of-pocket for repairs, trust our termite control in Wellington. We offer proactive and reactive treatments to give you long-term protection. Get rid of termites for good with help from our team!
Our termite treatment includes:
A free inspection performed by a licensed termite exterminator.

Custom treatment based on your home's current condition.

Elimination with fumigation or baiting, depending on the infestation.

Complete termite removal.

Guaranteed results, so you don't have to worry about termites making a comeback!
Mosquito Control in Wellington
Mosquitoes make it difficult to enjoy your time outside without getting covered in itchy bites. Luckily, there's a better option than sticky bug sprays and smelly candles. Our mosquito control in Wellington is designed to eliminate pests at their source, giving you long-term protection. So when you're dealing with mosquitoes around your property, there's no one better to call than the Price pest pros. You'll see results, we guarantee it!
When you choose our mosquito treatments, we will:
Complete a free inspection to determine where mosquitoes are hiding.

Create a custom treatment plan based on your property's needs.

Use a combination of fogging, liquid treatments, larvicides, and mosquito traps.

Get rid of mosquitoes and their larvae, preventing future infestations.
Bed Bug Exterminator in Wellington
Unwanted guests ruining your sleep? Look no further than Price for our top-tier bed bug control service in Wellington. With over 30 years of experience under our belts, we know exactly how to get rid of bed bugs for good. Here's what you can expect when you choose us:
Same-day inspections from a highly-trained bed bug exterminator in Wellington
Individualized treatment plans tailored to your specific situation and needs
Targeted solutions, including liquid treatments, aerosol treatments, and pesticide treatments
Ongoing bed bug control to ensure they don't come back and disrupt your sleep
Don't let bed bugs keep you up at night. Our trusted bed bug exterminators in Wellington will work with you every step of the way to ensure the issue is thoroughly solved. Choose us for our:
Expertise: With over 30 years of experience, we know exactly how to tackle bed bug infestations
Customization: We create individualized treatment plans that are tailored to your specific situation and needs.
Effectiveness: Our targeted solutions get rid of bed bugs for good, ensuring you can get back to a good night's sleep
Convenience: We offer same-day inspections and recurring bed bug control to make the process as easy as possible for you
When you choose Price, you're choosing peace of mind. Say goodbye to bed bugs and hello to restful, uninterrupted sleep. Contact us today for a free quote on our bed bug control service in Wellington.
Rodent Exterminator in Wellington
Are you worried that your home may be infested by rodents? You don't want sneaky, uninvited guests nibbling on your food, contaminating your living space, and putting your health at risk, do you? If you're living in Wellington, Florida, you should know that this city naturally attracts rats and mice, which means that you need to be extra careful. Don't wait until it's out of control! Our rodent control service in Wellington has got you covered!
Here are the top reasons why you should choose our experts:
Free rodent inspection: We will carefully inspect your home to identify any rodent activity and assess the damage done so far.
Exterior rodent bait boxes: We use the most advanced bait and bait boxes to kill rodents outside of your home and prevent them from coming in.
Interior trapping: We set up traps in all the strategic locations where rodents might be hiding.
Structural modifications: We seal off all the cracks, crevices, and entry points to exclude rodents from your home.
Rodent exclusion: Our experts will analyze your property to find any potential entry points and make sure that they're sealed off permanently.
Recurring or one-time service: Choose the service that suits your needs and budget.
Includes varmints (no groundhogs): Our comprehensive rodent control service includes the removal of all rats, mice, and other varmints that may be threatening your home.
So, why wait any longer? Call us now, and we will provide you with the most effective rodent removal service in Wellington. We know how to get rid of rats, mice, and other varmints that are jeopardizing your home's hygiene and your family's health. Our top-notch rodent exterminators in Wellington use state-of-the-art equipment and methods to eliminate rodents fast and effectively.
At Price Termite and Pest Control, we understand that the best way to prevent future rodent infestations is by ongoing care and attention. That's why we're committed to providing you with the most comprehensive and reliable rodent control service in Wellington. Our mission is to create a rodent-free environment that will make you feel safe and comfortable in your own home.