Save $50 on Pest Control Services in Boynton Beach
Pest Control in Boynton Beach
Choosing the right pest control company can be tricky, but we're here to make things easier. We offer same-day and next-day treatments in Boyton Beach to get rid of pests as soon as possible. Whether you're struggling with ants in the kitchen, wasps in the backyard, or a mystery bug wreaking havoc, Price Termite & Pest Control has the solution.
Our pest control in Boynton Beach covers:
Ants

Roaches

Spiders

Centipedes

Hornets

Flies

Wasps

Fleas

Ticks

Lawn Pests

And more!
Trust Your Expert Local Exterminators
It takes a lot to trust exterminators in your home, so we ensure that our team is the best of the best. Our entire staff is friendly, skilled, and willing to go above and beyond for all our customers. We also have regular training sessions throughout the year to keep everyone up-to-date on the latest industry developments. With over 30 years of experience under our belt, there's no better option for pest control in Boynton Beach!
Image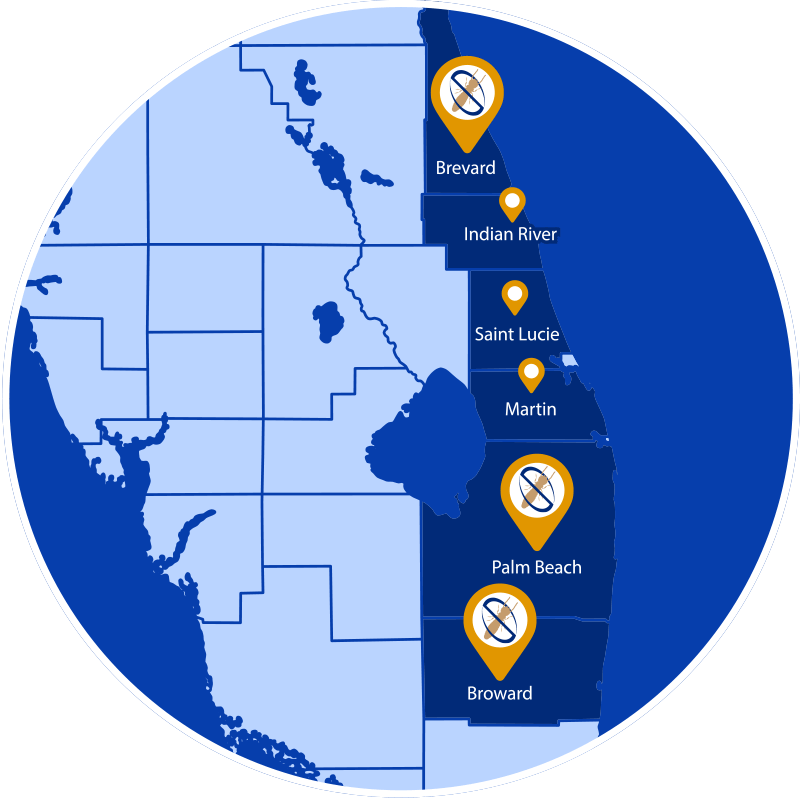 Custom Pest Treatments
When it comes to pest removal, there's no one-size-fits-all solution. That's why most store-bought traps and sprays don't work. Our West Palm Beach pest control, however, is different. We take our time to inspect your home to find what pests are present and where they're hiding, then tailor our approach based on our findings. This ensures you get great service every time.
When you partner with us for pest control, you'll receive:
A free pest inspection and quote.

Custom treatment based on your home's specific needs.

Treatment with EPA-approved and organic products.

Same-day, next-day, and Saturday service.

Our satisfaction guarantee.
Termite Control in Boynton Beach
No homeowner wants to learn that they have a termite infestation, and for good reason! These small insects have massive appetites, and can quickly eat through your home's structural supports. This reduces your home's value, makes it unsafe, and can cost thousands to repair. Instead of waiting for the worst case scenario to happen, protect your home today with our termite control in Boynton Beach. We offer both reactive and preventative termite removal and treatments, so we'll always have your back.
When you partner with us for termite treatment, we will:
Inspect your home for signs of termite damage.

Carefully place bait stations around the perimeter of your home.

Tent and fumigate if your home has an extensive infestation.

Get rid of termites while protecting you from future infestations.

Treat for both subterranean and drywood termites.

And more!
Mosquito Control in Boynton Beach
If bug sprays and citronella candles aren't cutting it anymore, you need professional mosquito control in Boynton Beach—you need Price Termite & Pest Control! Our mosquito treatments will protect you from itchy bites and dangerous diseases like malaria and West Nile virus. All you have to do is make an appointment and we'll take care of the rest. Get rid of mosquitoes today with help from the professionals with over 30 years of experience!
Our mosquito control includes:
A free inspection to find where insects are hiding.

Custom treatment with options like fogging and liquid sprays.

In2Care mosquito traps that safely get rid of mosquitoes and larvae.

Added protection from diseases like West Nile virus and eastern equine encephalitis.

Our satisfaction guarantee, which covers free re-treatments if needed.
Rodent Control in Boynton Beach
The one sure thing about rats and mice in your house is that if you see 1, there are many more hiding out of sight. They come in for shelter and have no problem destroying your home while spreading germs and bacteria everywhere in their path.  In addition to this, rodent infestations come with the risk of serious illness to your family and pets from the diseases they carry, and you can't evict them fast enough! With over 30 years of experience, our state-licensed rodent exterminators are ready to banish rats and mice from your home, whether you have a one-time need or are ready to sign-up for recurring services.
When you partner with us for rodent control services, you can expect:
A comprehensive inspection to identify the extent of your problem and how rodents are entering your home.

A targeted treatment plan tailored to the details of your rodent infestation.

Indoor traps and outdoor bait stations to eliminate rodents both inside and outside your home.

Rodent exclusion and repairs to deny future access to rats and mice.

And more!
Bed Bug Exterminator in Boynton Beach
If you've been waking up with itchy bites on your skin, chances are, bed bugs have invaded your space. Don't lose sleep over these blood-sucking pests! Our bed bug control service in Boynton Beach will quickly get rid of bed bugs so you can have a peaceful sleep.
Why Choose Us?
Same-day Inspection: Our bed bug exterminators in Boynton Beach will perform a free inspection on the same day you call us. We do not waste any time getting rid of bed bugs as quickly as possible.
Customized Treatment: Our bed bug control service is tailored to meet your specific needs. We understand that each case is unique and hence, develop personalized treatment plans that work effectively.
Liquid Treatments: We use spot treatments to target bed bugs in specific areas of your home, ensuring the entire infestation is dealt with.
Aerosol Treatments: Our bed bug exterminators use aerosols to reach areas where bed bugs might be hiding. This helps target bed bugs that are deep inside cracks and crevices.
Pesticide Treatments: For major infestations, we use a specialized fumigation process to get rid of bed bugs.
Our Expert Bed Bug Exterminators in Boynton Beach Will Give You Peace of Mind
Our highly-trained bed bug exterminators in Boynton Beach will work with you every step of the way to ensure your bed bugs are removed correctly. We know that bed bugs can be very disruptive and emotionally distressing, which is why we offer a comprehensive bed bug control service.
Areas We Service Around Boyton Beach
Our exceptional pest control services extend far beyond Boynton Beach. As one of the leading pest control providers in greater Boca Raton, we are committed to keeping all homes and businesses in the area free of pests and rodents.