Save $50 on Pest Control Services in Palm Bay!
Are you tired of persistent pests invading your home in Palm Bay? Look no further than Price Termite and Pest Control, the best professional exterminator in the area. With our expertise, you can finally get rid of those unwanted guests and enjoy a pest-free home. Plus, for a limited time, save up to $50 on your first service with us.
Pest Control in Palm Bay, FL
Wildlife spotting in Palm Bay Florida is easy: turtles rustle through our backyards, great blue herons standing in the water, and pelicans gliding over it. Palm Bay plays host to a different type of wildlife as well—the kind that likes to come into our homes. When unwanted pests find their way into your living space or business, Price Termite and Pest Control has the tools, knowledge, and personnel to get them out in the fastest way possible.
Our pest control services in Palm Bay include:
Free pest inspections and quotes.

Fast service and flexible scheduling.

Residential and commercial pest control.

One-time and recurring services.

Satisfaction guarantees.

Organic pest control options.
We've served Palm Bay for more than 30 years, during which time we've carefully honed our pest control methods for maximum effect and safety. Price is your one-stop shop for all your pest control needs!
Image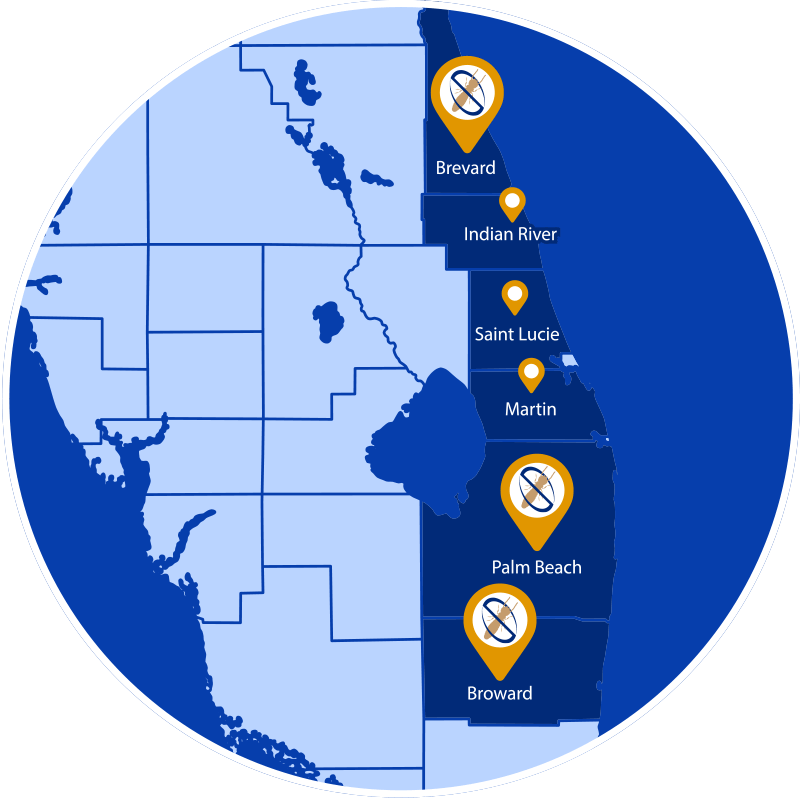 Termite Control in Palm Bay
Day or night, rain or shine, termites work. These wood-munching insects don't sleep, so they're constantly either harvesting wood to feed the colony or searching for new wood sources. This means it's only a matter of time before they begin feeding on any home in Palm Bay. Our termite control services get rid of active termites in your home and protect it against future infestations.
When you choose Price for termite control in Palm Bay, you can count on: 
A free termite inspection.

A custom termite treatment plan tailored to you.

Multiple treatment options.

Recurring service visits.

Long-term termite prevention.
As a local pest control company, we know nearby pests. We also ensure you get the best treatment method for your situation. We can conduct spot treatments, proactive pre-construction treatments, install innovative termite baiting systems, and even fumigate an entire home in the case of an extensive infestation. Whatever your scenario, Price has you covered.
Bed Bug Treatment in Palm Bay
More and more research reveals how important sleep is to our overall well-being. But finding bed bugs in your home can make sleeping in your own bed seem daunting. Price's expert bed bug exterminators are trained and equipped to find, treat, and eliminate bed bugs so you can enjoy your own bed once again. 
Our bed bug control in Palm Bay includes:
A free bed bug inspection by one of our highly trained technicians.

A free quote from your local exterminator.

A variety of treatment options to handle any kind of infestation.

Same-day, next-day, and Saturday service so you don't have to wait.

Recurring bed bug treatment to ensure bed bugs don't return.
Rodent Control in Palm Bay
Have you heard scuffling in your attic or walls at night, noticed gnaw marks on your pantry items, or spotted rice-sized fecal pellets around your home? If so, you probably have a rodent infestation. Not to worry, though. Our rodent control technicians in Palm Bay specialize in rapid response, effective rodent removal, and long-term prevention to keep you and your family safe from the diseases rats and mice are known to carry.
When you choose Price for rodent control, we will: 
Inspect your home or business for nests and high-traffic areas.

Build a rodent removal plan to share with you.

Place bait stations outside your home to reduce the population.

Set traps inside your home to remove interior rodents.

Conduct rodent exclusion work to seal gaps and holes so rodents can't get in again.

Get rid of all rodents in your home so you can rest easy.
Mosquito and Tick Control in Palm Bay
Nothing is better than freely enjoying the outdoor space around your home, whether that be a porch, a backyard, or a stone patio. But swatting mosquitoes, or worrying about ticks and mosquitoes, can dampen your outdoor experience. If you want peace of mind spending time in your outdoor space, we have the solution for you. 
Our tick and mosquito control services in Palm Bay:
Drastically reduce the number of mosquitoes and ticks around your home.

Protect you against the harmful diseases these parasites have been found to carry.

Improve your outdoor experience, making barbecues and gatherings more enjoyable.

Give you one more reason to let the kids play outside as long as possible.
30+ Years of Local Pest Control
Whatever your pest control needs, we offer services backed by more than 30 years of experience. As a locally owned and operated company, we've dealt with local pests for over 3 decades, so we've learned a thing or two about quality pest control. We're proud and honored to serve you in keeping your home safe from pests.
Areas We Service Near Palm Bay
Not in Palm Bay? View the Surrounding Areas We Service
We also serve a great number of cities just outside of the greater Palm Bay area. Discover what local pest control services we're offering in your city: