Save Up to $50 on The Best Pest Control Services in Titusville!
Looking for a professional exterminator to get rid of pests in your Titusville home? Look no further than Price Termite & Pest Control. With over 35 years of experience, we pride ourselves on providing top-notch pest control services that will keep your home pest-free and your family safe.
Pest Control in Titusville
Looking for the best local pest control services in Titusville, FL? Look no further than Price Termite & Pest Control! With over 35 years of experience, we have been providing top-notch pest control solutions to residential and commercial properties in Titusville and the space coast area. When you choose us, you can expect:
Expert exterminators who are well-versed in handling all types of pests, including rodents, termites, bed bugs, mosquitoes, and ticks.
Same-day service availability, so you can get rid of those pesky pests as quickly as possible.
Family-friendly treatments that prioritize the safety of your loved ones and pets.
A 100% satisfaction guarantee, ensuring that we won't stop until the job is done right.
Comprehensive pest control services that go beyond just eliminating pests, but also preventing future infestations.
Personalized attention from our owners, Jon, Tony, and Josh, who are always ready to assist you with any questions or concerns.
Competitive pricing that offers you the best value for your money.
At Price Termite & Pest Control, we take pride in being the go-to pest control company for Titusville and the surrounding communities. Our team is dedicated to providing exceptional service that not only eliminates pests but also gives you peace of mind. Don't let pests take over your home or business - experience the Price Termite & Pest Control difference today!
Image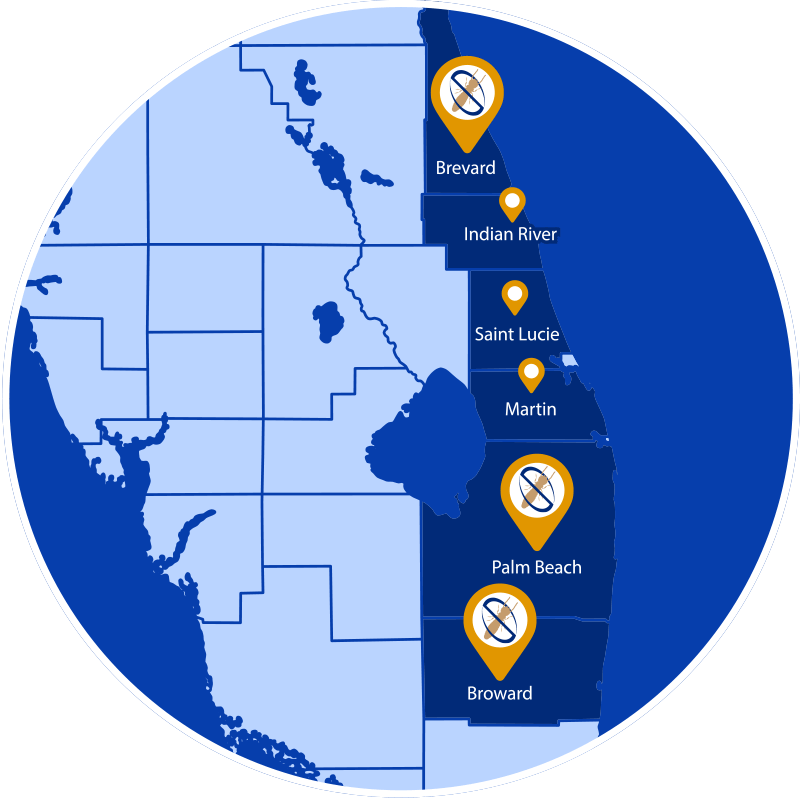 Residential Pest Control in Titusville
At Price, we understand that living in Florida means dealing with a wide range of pests. But don't worry, we've got you covered with our same-day residential pest control in Titusville.
Ants: These common household pests can quickly invade your space and contaminate your food. Let our expert exterminators eliminate them and keep them from coming back.
Cockroaches (except German): Cockroaches are not only a nuisance but also a health hazard. Our team knows exactly how to get rid of them and ensure they never return.
Spiders: Whether it's harmless house spiders or more dangerous species like black widows, we have the expertise to effectively eliminate any spider infestation in your home.
Silverfish: These little creatures may seem harmless, but they can do serious damage to your belongings. Let us take care of them for you.
Fleas and Ticks: Protect your family and pets from these annoying and potentially disease-carrying pests with our comprehensive flea and tick control services.
Hornets and Wasps: We understand the fear and danger that hornets and wasps can bring. Our trained exterminators will safely remove their nests and keep your family safe.
Centipedes: Known for their creepy appearance and painful bites, centipedes can be a real nuisance. Trust our experts to eliminate them from your home.
And much more! Our general pest control services cover a wide range of common household pests, ensuring that your home stays pest-free.
At Price, we prioritize the safety of your family and pets. That's why many of our customers choose our organic pest control program. We know that it works because we've been perfecting our techniques since 1988.
With our expert pest inspection, we can identify the root of the problem and tailor our solutions to your specific needs. And with our recurring services, you can have peace of mind knowing that we will continuously keep those pests at bay.
We also offer a limited guarantee on our services, so you can trust that we will get the job done right the first time.
Don't let pests take over your home. Contact Price for effective and reliable pest control in Titusville. Let us help you reclaim your space and enjoy a pest-free environment for you and your family.
Commercial Pest Control in Titusville
In the bustling city of Titusville, Florida, businesses of all kinds thrive. But to ensure success, you must keep your enterprise in ship shape. That means including commercial pest control in your business plan.
Why is professional pest control essential for your business? It's simple. It protects your employees and customers from negative pest-related health outcomes and safeguards your reputation in the eyes of customers and the local community.
At our commercial pest control company, we specialize in providing the highest quality service to a wide range of commercial properties in Titusville, including:
Office buildings
Doctor's offices
Warehouses
Recycling plants
Houses of worship
Stores
Banks
Restaurants
Convenience stores
And more!
With our same-day commercial pest control in Titusville, you'll never have to wait long for the assistance you need. We understand that when pests are discovered, time is of the essence. That's why we offer fast and flexible scheduling options, including weekend service, same-day service, next-day service, and even emergency service.
Our team of expert exterminators has been serving Florida's Space Coast businesses since 1988. Over the years, we have developed extensive experience and capabilities in commercial pest control. From general pest control to specific solutions for common commercial pests like cockroaches, spiders, ants, flies, centipedes, stinging insects, and silverfish, we have you covered.
When you choose us for your commercial pest control needs, you can expect thorough pest inspections, effective treatments to get rid of pests, and reliable recurring service to keep your business protected year-round.
Don't let pests deter your customers or harm your business. Take action now to protect your enterprise. Contact us today to schedule a pest control consultation and secure the peace of mind you deserve.
Termite Exterminator in Titusville
Are termites causing havoc in your Titusville home? Don't fret, our expert termite exterminators in Titusville are here to save the day! With over 35 years of experience, we offer effective termite treatments that will get rid of those pesky bugs once and for all.
Here's what you can expect from our termite control service in Titusville:
Free Termite Inspection: Our skilled technicians will conduct a thorough inspection of your property, checking for any signs of termite infestation. This complimentary service allows us to assess the extent of the problem and develop a customized treatment plan that suits your specific situation.
Ongoing Termite Control: We understand that protecting your home is a top priority, which is why we offer recurring services to keep those termites at bay. Our friendly and knowledgeable techs will ensure that your property remains termite-free throughout the year, giving you peace of mind.
Monitoring and Prevention: Our termite baiting method is one of the most effective ways to eradicate existing colonies and prevent future infestations. By strategically placing termite bait stations around your property, we create an invisible "force field" that deters these bugs from approaching your home.
Effective Termite Treatments: Depending on the severity of the infestation, our experienced technicians will recommend the most appropriate treatment option. From fumigation for extensive live infestations to termite baiting for ongoing protection, we have the expertise to handle it all.
Don't let termites take control of your home. Trust our termite control service in Titusville to safeguard your largest investment. Contact us today to schedule your free termite inspection and take the first step towards a termite-free home.
Bed Bug Exterminator in Titusville
Tired of those pesky bed bugs disrupting your sleep and peace of mind? Look no further! Our bed bug control service in Titusville is here to save the day and give you the restful nights you deserve. With our highly-trained bed bug exterminators, you can trust us to get rid of those pesky critters and bring back tranquility to your own bed.
Why choose our bed bug service in Titusville? Here are the highlights:
Same-day bed bug inspection: Our team understands the urgency of the situation. That's why we offer same-day inspections to quickly assess the problem and create a customized treatment plan based on your specific needs.
Liquid treatments: Our experts are well-versed in the most effective bed bug control techniques. We use liquid spot treatments to target and eliminate bed bugs, ensuring that they are eradicated completely from your home.
Aerosol treatments: For stubborn infestations, we have aerosol treatments that can reach even the most hidden corners and crevices. This thorough approach ensures that no bed bugs are left behind, giving you a bed bug-free environment.
Pesticide treatments: In cases of large-scale infestations, we offer fumigation services to tackle the problem head-on. Our specialized treatments guarantee the complete elimination of bed bugs, leaving your home safe and secure.
But our service doesn't stop there. Our knowledgeable and friendly bed bug exterminators in Titusville will guide you through the best options for your situation, providing insights on preventing future bed bug infestations.
Don't let those bed bugs disrupt your sleep any longer. Choose our bed bug service in Titusville and say goodbye to those bothersome pests. Get back to sleep and reclaim your peace of mind today!
Rodent Exterminator in Titusville
Welcome to our exclusive rodent control service in Titusville, FL! We understand the importance of a pest-free home and are here to help you keep those unwanted guests away. With our top-notch service, you can say goodbye to rats, mice, and other varmints for good. Here's what we offer:
Free rodent inspections: Our highly trained rodent exterminators will carefully inspect your home to identify any signs of infestation.
Exterior rodent bait boxes: We strategically place bait stations outside your home, ensuring that rodents are attracted to them and not your living spaces.
Interior trapping: Our skilled team will set up traps inside your home to quickly and effectively capture any rodents that may have made their way indoors.
Structural modifications: We offer expert rodent exclusion work, including repairing holes, sealing cracks, and installing wire mesh to keep those pesky critters out.
Recurring or one-time servicing: Whether you prefer ongoing maintenance or a one-time solution, we've got you covered.
Varmint control: Our rodent control service extends beyond rats and mice to include various varmints, excluding groundhogs.
With our comprehensive rodent control service, you can prevent future infestations and enjoy a pest-free home. Don't let rodents take over your space - let us help you get rid of them once and for all.
Contact our trusted rodent exterminator in Titusville today and experience the peace of mind that comes with a rodent-free home. Act now and take control of your living environment. Your satisfaction is our top priority.
Tick and Mosquito Control in Titusville
When it comes to mosquito and tick control in Titusville, FL, you can trust Price Termite & Pest Control to provide the highest quality service. Here's what sets us apart from the rest:
Free inspections: Our team will locate and identify problem areas where these pests are breeding and hiding in your yard.
Mosquito Fogging: We use EPA-approved liquid sprays to effectively eliminate mosquitoes and ticks from your outdoor space.
Larvicides in targeted areas: By targeting breeding areas, we can prevent the next generation of mosquitoes from ever becoming a problem.
Mosquito traps: Our In2Care mosquito traps are discreetly placed in strategic locations throughout your yard, providing efficient and effective control.
With our mosquito and tick service, you can enjoy your outdoor time without the annoyance and health risks associated with these pests. We prioritize your safety and satisfaction, offering proven techniques honed over 35+ years of pest control experience.
Don't let mosquitoes and ticks ruin your outdoor experience. Choose Price for reliable and effective mosquito and tick control in Titusville. Experience the difference today.
Areas Surrounding Titusville That We Service
Not only do we offer exceptional pest management here in Titusville, but we extend our services to the wider Palm Bay area as well. Whether you're dealing with unwanted critters or pesky insects, our team is equipped to provide top-notch pest control throughout Palm Bay and its surrounding areas.