Save $50 on Pest Control in Palm City
Pest Control in Palm City
No matter what time of year it is, pests are always looking for a way into your home. They can squeeze through small openings in your home that you didn't even know existed, like cracks in the foundation or a gap around the door. Thankfully, it's just as easy to remove pests with our pest control in Palm City. We've been offering cutting-edge pest removal methods that include organic products and Integrated Pest Management services in greater Port St. Lucie, including here in Palm City, for well over 30 years.
We'll help you get rid of bugs such as:
Ants

Roaches

Spiders

Centipedes

Hornets

Flies

Wasps

Fleas and ticks

And more!
Image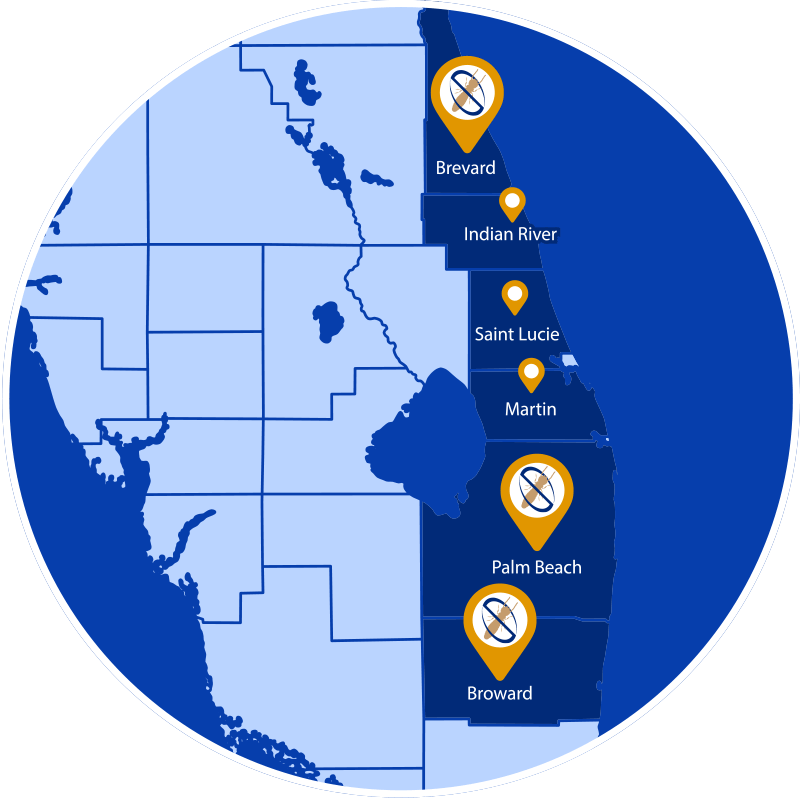 Guaranteed Relief from Pests
Sharing your home with pests is not only uncomfortable, but it can also be dangerous! They can cause allergic reactions, damage your belongings, and take away your peace of mind. Instead of relying on ineffective store-bought treatments, trust our guaranteed pest control in Palm City! We stand by our treatments 100% and if you're ever unhappy, we'll re-treat at no additional cost. 
When you partner with us for pest control services, we will:
Conduct a free inspection to learn more about where pests are hiding.
Personalize treatment based on your home and family's needs.
Use EPA-approved and organic products to eliminate pests.
Complete targeted treatments that are fast and effective.
Offer same-day, next-day, and Saturday appointments to accommodate your schedule.
The Local Pest Experts
We've been in business since 1988, so we've seen it all. No matter how big or intimidating your pest problem may seem, we have a custom solution just for you! You can trust our local exterminators to take care of your home with the respect it deserves. Our team is fully licensed, rigorously trained, and has been background checked before going out into the field. For honest, effective pest control in Palm City, trust Price Termite and Pest Control of Jupiter.
Rodent Exterminator in Palm City
If you hear scratching in the walls or find droppings in your home, you might have a rodent infestation. Unlike DIY options which only give you short-term relief, our rodent control service in Palm City gets to the source of the problem. We use products and treatment methods that we know work and give you a satisfaction guarantee so you can feel just as confident. That means free re-treatments at no additional cost! You'll never have to worry about unwanted rats and mice again.
When you partner with Price, our rat exterminators will:
Inspect your home to find entry points, hiding places, and nesting areas.
Create a treatment and control plan that's tailored to your unique needs.
Place bait stations around the perimeter of your home.
Install traps inside your home, keeping them away from kids and pets.
Seal off entry points to stop more rodents from sneaking inside.