Save $50 on Pest Control in Palm City
Pest Control in Palm City, FL
No matter what time of year it is, pests are always looking for a way into your home. They can squeeze through small openings in your home that you didn't even know existed, like cracks in the foundation or a gap around the door. Thankfully, it's just as easy to remove pests with our pest control in Palm City. We've been offering cutting-edge pest removal methods that include organic products and Integrated Pest Management services, for well over 30 years.
We'll help you get rid of bugs such as:
Ants

Roaches

Spiders

Centipedes

Hornets

Flies

Wasps

Fleas and ticks

And more!
Image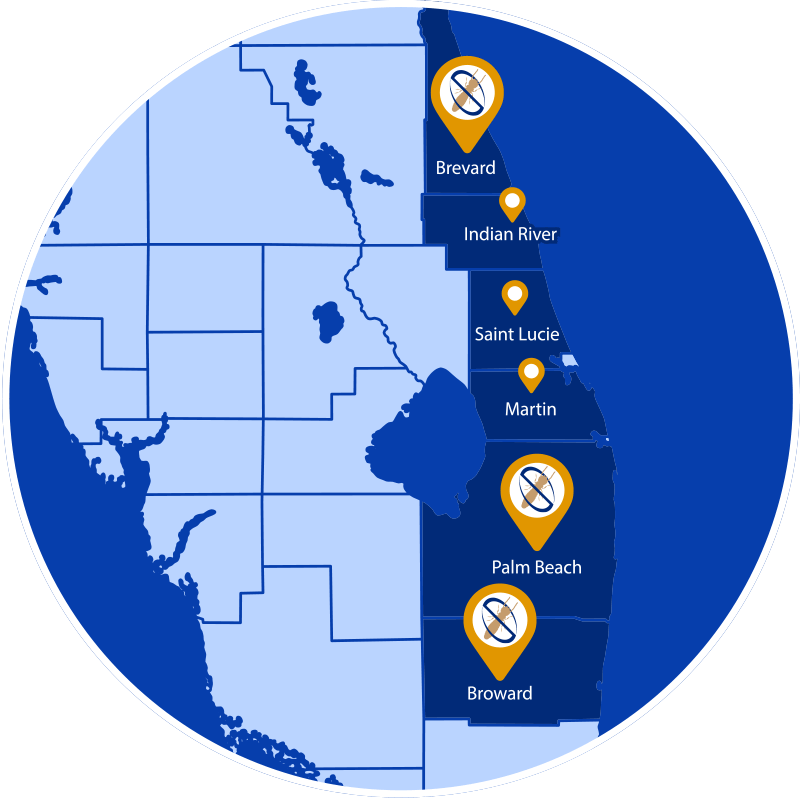 Guaranteed Relief from Pests
Sharing your home with pests is not only uncomfortable, but it can also be dangerous! They can cause allergic reactions, damage your belongings, and take away your peace of mind. Instead of relying on ineffective store-bought treatments, trust our guaranteed pest control in Palm City! We stand by our treatments 100% and if you're ever unhappy, we'll re-treat at no additional cost. 
When you partner with us for pest control services, we will:
Conduct a free inspection to learn more about where pests are hiding.
Personalize treatment based on your home and family's needs.
Use EPA-approved and organic products to eliminate pests.
Complete targeted treatments that are fast and effective.
Offer same-day, next-day, and Saturday appointments to accommodate your schedule.
The Local Pest Experts
We've been in business since 1988, so we've seen it all. No matter how big or intimidating your pest problem may seem, we have a custom solution just for you! You can trust our local exterminators to take care of your home with the respect it deserves. Our team is fully licensed, rigorously trained, and has been background checked before going out into the field. For honest, effective pest control in Palm City, trust Price Termite and Pest Control of Jupiter.
Rodent Exterminator in Palm City
If you hear scratching in the walls or find droppings in your home, you might have a rodent infestation. Unlike DIY options which only give you short-term relief, our rodent control service in Palm City gets to the source of the problem. We use products and treatment methods that we know work and give you a satisfaction guarantee so you can feel just as confident. That means free re-treatments at no additional cost! You'll never have to worry about unwanted rats and mice again.
When you partner with Price, our rat exterminators will:
Inspect your home to find entry points, hiding places, and nesting areas.
Create a treatment and control plan that's tailored to your unique needs.
Place bait stations around the perimeter of your home.
Install traps inside your home, keeping them away from kids and pets.
Seal off entry points to stop more rodents from sneaking inside.
Termite Exterminator in Palm City
Termites quietly start munching on the wood-based components of your home without your knowledge. By the time you discover a termite infestation, they often have already caused thousands of dollars worth of damage that is rarely covered by insurance. Rather than waste time on dubious DIY treatments, it's worthwhile to contact professionals like those at Price Termite and Pest Control. Locally owned and operated since 1988, the highly trained termite exterminators at Price have a complete arsenal of proven products to banish these ravenous critters for good.
When you partner with our state-licensed termite exterminators in Palm City, you will receive:
A free termite inspection to fully assess your property.

A custom termite treatment plan designed to provide exactly what your home needs.

Treatment options including liquid applications, termite baiting, whole-house fumigation, and more that are EPA-approved and reduced-risk to keep your family safe.

One-time treatments, ongoing termite control, or preventative control plans, based on your inspection results.

Recurring package options that offer 100% guaranteed satisfaction.
At Price, we are your one-stop shop for termite services. Unlike our competitors, we offer all of the industry-leading termite treatments, be it Sentricon for baiting, Termidor for liquid defense, and more! You can count on Price to have the necessary resources and expertise to do what is necessary to get rid of termites and prevent their return, so contact us today to start protecting your home from these hungry wood-eaters.
Mosquito Control in Palm City
Welcome to Price Termite & Pest Control, home of the best mosquito control in Palm City. Our expert exterminators use proven techniques honed over 35+ years to provide our clients with effective mosquito and tick treatment plans. Here's what we offer:
Free inspection and a unique treatment plan tailored to your individual situation
Fogging, EPA-approved liquid sprays, larvicides in targeted areas, and mosquito traps to drastically reduce mosquitoes in your yard
In2Care bucket treatment, a low-input, efficient, and effective way to tamp down on mosquitoes
Powerful tick control to protect you and your loved ones from serious diseases
And in sunny Palm City, FL, outdoor time is part of life, so don't let mosquitoes or ticks ruin it. When you choose Price Termite & Pest Control for mosquito prevention and tick control, you can enjoy your yard without worrying about pests. Let us help you take back your yard today!
Bed Bug Exterminator in Palm City
Are bed bugs keeping you up at night? We know how frustrating and disruptive they can be, which is why our bed bug control service in Palm City is designed to get rid of them quickly and efficiently. With our same-day bed bug inspection and individualized treatment plan, you can rest easy knowing we've got you covered. Here's what you can expect:
Free inspection from one of our highly trained bed bug exterminators
Liquid spot treatments to target bed bug hotspots
Aerosol treatments for targeted control in hard-to-reach areas
Pesticide treatments to get rid of bed bugs for good
We'll work with you every step of the way to ensure the issue is thoroughly solved and provide insights on how to prevent bed bugs from returning. And with our recurring bed bug treatment options, you can be sure that bed bugs are fully removed and stay gone for the long run. Don't let bed bugs disrupt your sleep any longer. Choose our bed bug exterminator in Palm City for peace of mind.
Areas We Service Near Palm City
Not in Palm City? View the Surrounding Areas We Service
Our pest control services are not just limited to Palm City. We cover nearby areas as well, so you can easily see what specific services are available near you by browsing below.