Say Goodbye to Termites Forever: Get a Free Inspection Now!
Termite Exterminator in Jupiter, FL
No pest poses as much of a threat to your home or business as termites. Whether your property is brand new or has been standing for years, it is equally vulnerable to termite infestations. At Price Termite and Pest Control of Jupiter, we specialize in providing top-notch termite control services to protect and safeguard your investment.
Our expert termite exterminators provide comprehensive and efficient termite control services in Jupiter, including:
Professional Inspections
Long-lasting Treatments
Pre-construction Treaments
Termite Prevention
Ongoing Monitoring
One-time Services
Recurring Services
At Price Termite and Pest Control, we prioritize our customer's satisfaction by providing them with safe, effective, and proven termite control solutions. Our 100% satisfaction guarantee on all our termite treatments underscores our commitment to your peace of mind.
Don't let termites silently eat away at your investments. Partner with our trusted termite exterminators in Jupiter today and protect your valuable property from these destructive pests.
Discover how our expert services can help keep your home or business safe – contact us now to book your free termite inspection!
Image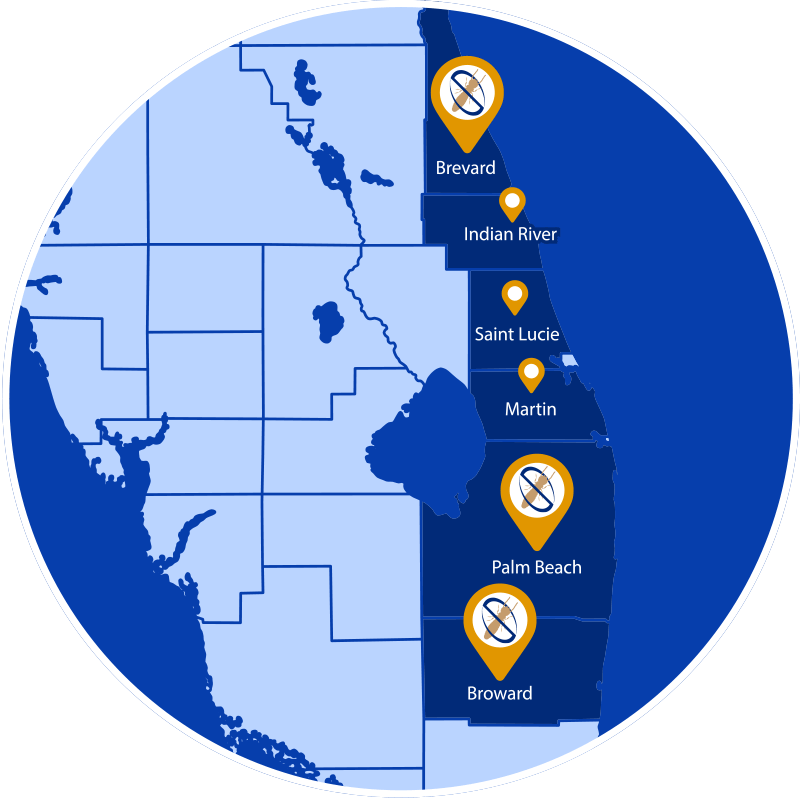 Efficient Termite Treatments in Jupiter
Are you dealing with a pesky termite infestation and feeling overwhelmed by the various DIY treatments that just don't seem to work? Look no further than our expert termite treatments in Jupiter! Our proven methods will eliminate existing colonies and prevent future ones from causing damage to your home or business. Here's why our termite treatments stand out:
Effective: Our termite baiting and fumigation methods have been proven time and again to eliminate entire colonies quickly and efficiently. Don't waste your time and money on ineffective DIY treatments that only provide temporary relief.
Safe: Our active ingredient is completely harmless to humans and pets, ensuring the health and well-being of your family and furry friends. Sleep soundly knowing that our treatments are designed with your safety in mind.
Cost-effective: Our termite treatments in Jupiter are competitively priced, especially when compared to costly repairs that can result from unchecked termite infestations. Protect your investment with affordable and reliable termite elimination.
Whether it's a whole house or spot treatments that you need, we have you covered. Our indoor and outdoor treatments will tackle any termite problem, big or small. Plus, our pre-construction treatment options ensure that your new build stays termite-free from the start.
At Price, we're serious about safeguarding your home or business and the environment. That's why we use environmentally friendly and sustainable practices in all of our treatments. Trust us to provide safe, effective, and long-lasting termite control.
So why wait? Contact us today to see how we can help you get rid of those pesky termites for good. Let us worry about the bugs, so you don't have to.
Termite Control and Prevention in Jupiter
Termites can cause serious damage to your property, and depending on the species we find, the size of the infestation, and the type of structure, our technician will recommend one of the following options: termite baiting or fumigation. Our Jupiter team, knows all too well that this area's climate creates a need for ongoing termite control and monitoring. That's why we offer preventative termite treatments to help keep your home or business safe from infestations.
Our termite control service in Jupiter includes:
Targeting Termites at their source: We use outdoor baiting stations that specifically target termites, which means they won't be able to find their way into your home.
Outdoor methods: Our baiting stations are placed in the ground around your property, so they won't be intrusive or get in the way of your daily routine.
Ongoing monitoring: Our team will continue to monitor your property to ensure that termites don't return. We'll keep an eye on your property even after we've eliminated the infestation to ensure your ongoing protection.
Non-intrusive: Our baiting stations are designed to blend in with your landscaping, so you won't even know they're there.
Prevent future infestations: Our baiting stations and ongoing monitoring help prevent future infestations, so you can rest easy knowing that your property is protected.
Our termite baiting method is one of our favorites because it is effective, non-intrusive, safe, low-maintenance, and affordable. We know that prevention is key to termite control, and we aim to keep your property termite-free for years to come. Our team of experts is here to help protect your property and ensure that you're safe from the damage caused by termites.
Don't wait for termites to take up residence in your home or business. Our termite control service in Jupiter is designed to prevent infestations, so you can stay worry-free. Contact us today to schedule an appointment and learn more about our termite control options.
State-certified Termite Inspections in Jupiter
Termites are sneaky insects that can cause extensive damage to homes before their presence is even detected. That's why a termite inspection in Jupiter is crucial for any homeowner to take preventive steps against structural damage.
When you choose our expert technicians for a termite checkup, you will benefit from:
Interior and exterior inspection to cover all areas of your property
State-certified Inspectors who are fully licensed and insured
Highly-trained Experts who have completed specialized training to detect and identify these pests
Over 30 years of experience in providing termite inspections in Jupiter and surrounding areas
Our inspections involve the use of infrared thermal imaging and other advanced detection tools to ensure we don't miss any signs of termite activity. We investigate your crawlspace, inspect your woodwork, and check around the perimeter of your home for any telltale signs of mud tubes.
If we find termites, we will lay out possible intervention options, and if none are found, our technician will give you prevention options to protect your home before a problem starts. Either way, you can rest assured that we will equip you with the knowledge to best safeguard your home.
As a homeowner, taking preventive steps against the silent invasion of termites is crucial. A WDI inspection is necessary, especially when purchasing a newly acquired property. Don't wait until it's too late, and structural damage has occurred.
At Price, we understand the importance of protecting your home from costly termite damage. That's why we have over 30 years of experience providing termite inspections in Jupiter and surrounding areas.
Protect your investment with a termite inspection from our experts. Contact us today to schedule your inspection and take the first step toward safeguarding your property.
Pre-construction Termite Treatment in Jupiter
Are you in the process of building a new home or business in Jupiter, FL? Don't let termites compromise your investment. Our team at Price Termite & Pest Control specializes in pre-construction termite pretreatments for new construction projects in Jupiter.
 Our pre-treatment services offer numerous benefits, including:
 - Soil pretreatments to form a chemical barrier that stops termites in their tracks
 - Lumber pretreatments that place a chemical barrier on lumber and structural surfaces before sheet rock and interior finishing
 - Long-lasting termite deterrents that protect your structure from these destructive pests
 - FREE estimates for your peace of mind
Preventative measures such as pre-construction termite control are essential to avoid costly termite damage later on. Our trained experts use liquid termiticide and other techniques during the construction phase to prevent later destruction caused by termites.
Call us today to schedule your pre-treatment and protect your home or business building from these unseen threats!